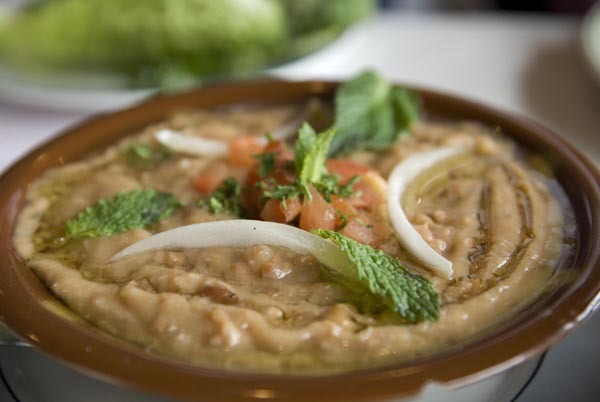 As much as I love hummus, sometimes it's time for a change, especially in prolonged picnic weather like this, when everyone reaches for a tub of the beige stuff to take to 'bring a dish' get-togethers. So try grabbing the broad beans from this week's vegbag and making ful medammes instead. It's a favourite across swathes of the Arab world, though the best I've had (so far) was in a workers' caff in Nazareth, and it's a lovely easy recipe for anyone to try.
Ingredients
400g broad beans
2 cloves finely chopped
1/2 teaspoon lemon juice
1 tablespoon tahini
pinch of salt
3 tablespoons hot water
1 tablespoon olive oil
parsley, finely chopped
Preparation
In a saucepan, combine broad beans, water, minced garlic, and lemon juice. Bring to a boil. Remove from heat.Drain excess liquid and coarsely mash broad beans with fork. Return to low heat. Add tahini and salt. Add water and olive oil, one tablespoon at a time, and stir to desired consistency. Add more water or olive oil, if needed.
Serve with hot pitta bread.