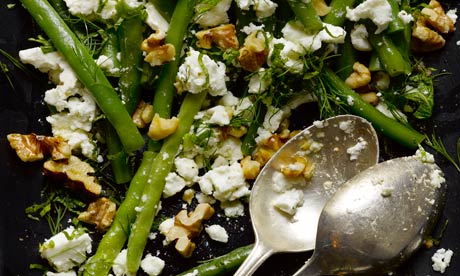 "This simple, tasty salad works with runner beans, too. Serves two to four." – from The Guardian.
Ingredients:
280g french beans, trimmed
3 tbsp extra-virgin olive oil
Juice of ½ small lemon
Small handful of mint leaves, tough stalks removed, and chopped
1 small handful dill, tough stalks removed, half the fronds chopped, the rest reserved to garnish the dish
Flaky sea salt and freshly ground black pepper
150g feta
50g walnuts, toasted and roughly chopped
Directions:
Bring a pan of salted water to the boil and cook the beans until just tender, about three to six minutes, then drain and refresh in cold water. Dress the beans in the olive oil, lemon juice, mint, some of the dill, salt and pepper. Serve topped with crumbled feta cheese, walnuts and the remaining dill fronds scattered over the top.