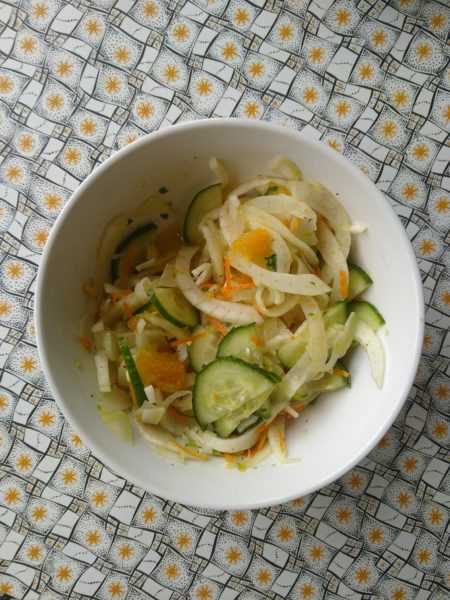 This refreshing, juicy salad couldn't be easier, as long as you have a sharp knife! Makes a great side dish to meat or fish, or a veggie tart of some kind.
Ingredients
1 head fennel

1 or 2 oranges, depending on size!

2 inch piece of cucumber
From the cupboard
salt

pepper

chilli flakes (optional)
Method:
Trim the fennel stalks and base, and slice as finely the bulb as possible. A sharp knife is essential for this! (Or a mandoline or food processor) Reserve any fennel fronds to garnish the salad later.

Combine the fennel, orange segments, orange juice and a pinch of salt in a small bowl and set aside for 5-10 minutes. The combination of salt and acid in the orange juice starts to soften the fennel.

Just before serving, slice the cucumber and add it to the salad. Adding it later keeps the cucumber crunchy. Check the salt and grind over plenty of black pepper and a small pinch of chilli flakes if you fancy a bit of a kick!
Recipe design by Alice