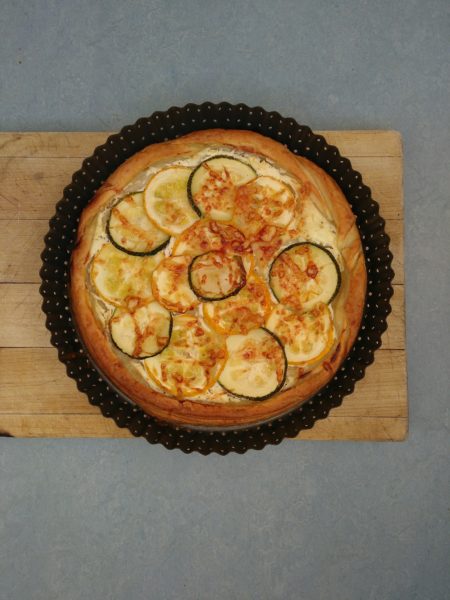 Ingredients:
1-2 courgettes, depending on size
Lemon zest
From the cupboard:
320g pack of Puff Pastry (try to get the "all butter" version)
100g creme fraiche
20g parmesan
Method:
1. Preheat your oven to 200 degrees C
2. Roll out your puff pastry to about 3 mm thick and place on your baking sheet with baking paper or a small amount of flour. Create a small border around the edge of the tart with an extra layer of pastry. Put in the fridge to chill while you prepare the filling and the oven heats up
3. Mix the lemon zest with the creme fraiche and plenty of salt and black pepper
4. Thinly slice your courgette into rounds about 2 mm thick
5. When the oven is hot and you are ready to cook the tart, spread the creme fraiche mixture over the pastry inside the border.
6. Place the slices of courgette on top, in a single layer, slightly overlapping.
7. Grate the parmesan over the top, with a little more black pepper.
8. Bake for 30 – 40 minutes until the pastry is puffed, golden and crispy.
Recipe design by: Alice