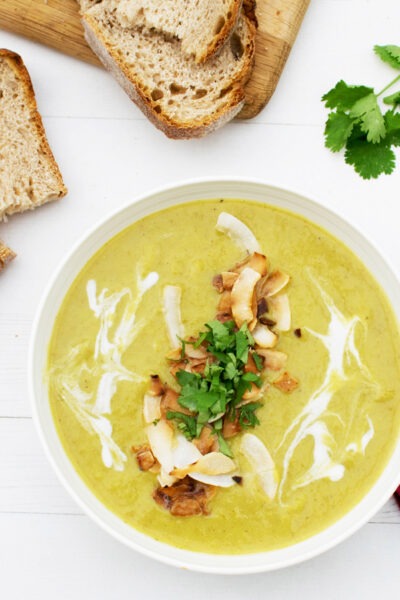 Lightly curried, this Leek & Parsnip Soup is warming and absolutely delicious. Made with coconut milk and vegetable stock, this soup is silky and creamy. Its gentle yellow glow will warm you from the inside out.
Garam masala gives it wonderful flavours. It is not spicy but rather "hot" in the Ayurvedic sense, meaning "to heat the body".
Ingredients:
600 g leek

450g parsnip

200g potato

1 large onion

3 garlic cloves – crushed

small bunch of coriander
From the cupboard:
1.5 litre vegetable stock

400ml can coconut milk

1 Tbsp garam masala

1 tsp turmeric

1 tsp ground ginger

juice of 1 lemon

coconut flakes

olive oil

salt & pepper
Method:
Heat olive oil in a large saucepan. Add the finely chopped onion, crushed garlic, garam masala, turmeric and ginger. Gently fry until the onions are soft.

Peel the leeks, parsnips and potato. Cut in small slices.

Add the vegetables to the onion mixture. Top with the vegetable stock. Bring to boil then simmer covered for around 20 minutes until vegetables are cooked.

Liquidise soup. Add the coconut milk and lemon juice. Season to taste.

Serve with freshly chopped coriander on top plus some roasted coconut flakes.
Recipe design and pictures: Annabelle Randles/The Flexitarian