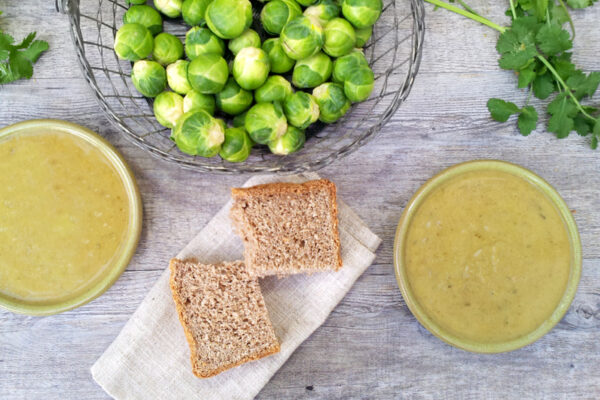 Curry and Brussels sprouts might sound an odd couple but it works. Garam massala is very fragrant and it blends nicely against the Brussels sprouts flavour. Try it even if Brussels sprouts is not your favourite. You'll be surprised!
This soup has the same satisfying texture than pea soup. Perfect to ride the cold and wet weather.
Ingredients:
500g Brussels sprouts [1 lb]
300g Savoy Cabbage [11 oz]
300g potatoes (peeled and diced) [11 oz]
2 garlic cloves (crushed)
1 onion (finely chopped)
small bunch fresh coriander
From the cupboard:
3 Tbsp olive oil
Salt & Pepper
1.7 litre vegetable stock [UK 3 pints / US 7 cups]
2 tsp garam massala
Method:
Heat olive oil in a large saucepan. Gently fry onion, garlic and garam massala for 5 mins until soft,
Add Brussels sprouts chopped in half, Savoy cabbage roughly chopped and potatoes. Mix well and fry gently for 5 mins.
Add vegetable stock. Bring to boil. reduce heat and cook covered for 25mins or so until vegetables are soft.
Add fresh coriander and liquidise the soup.
Season to taste.
Recipe design and photo: Annabelle Randles/ The Flexitarian