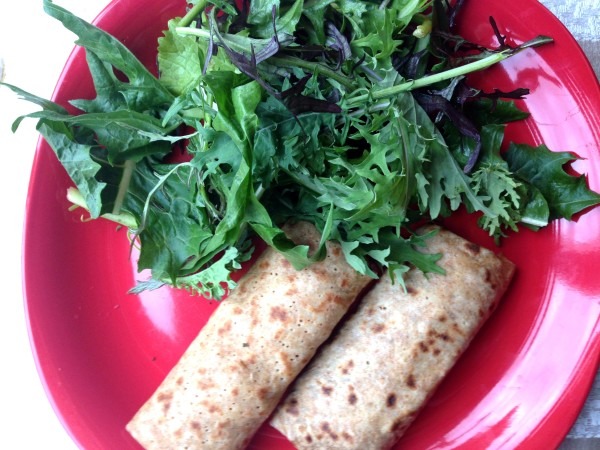 Makes 10 rolls
Prep & Cooking: 40-45 minutes
Ingredients:
1 large onion or 1 large leek

200-300g pak choi
500g cauliflower
1-2 potatoes or 1 medium sizes parsnip
handful of wild or fresh garlic or 2-3 cloves of garlic
handful of parsley
From the cupboard:
1 egg
190g milk
200g flour, to your preferred consistency
cooking oil
salt to taste
1 teaspoon paprika
soy sauce
1 teaspoon thyme (dried or fresh)
Method:
Making the crêpes:

Blend the egg, milk, flour, 375ml water, 30ml cooking oil and a pinch of salt. Make thin c

rêpes in a non-stick frying pan.

Making the stuffing:

Finely chop the leeks and pak choi. Stir-fry with grated carrots for about 10 mins. Chop the roots into small cubes and add to the mixture. When the potatoes are ready, season with paprika, soy sauce, garlic and parsley. You shouldn't need to add water because the pak choi will release a lot of liquid.
Pulse the cauliflower florets in a food processor until finely chopped and add to the cooked stuffing while war and mix well.
Form the crêpe rolls (approx. 50g stuffing per

 

crêpe)

.
Serve hot or cold as a main with mixed salad. The rolls can also be used as a side to pork or beef stews.
Recipe and image by Pavlina.