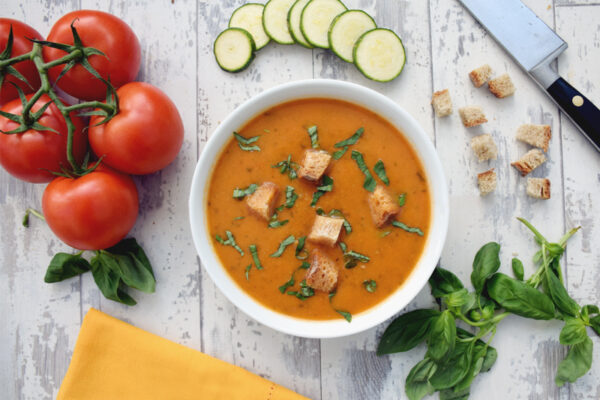 This makes a delicious soup perfect for colder evenings. It's is really lovely at this time of the
year when trying to capture the last of Summer's flavours.
If you want to freeze it, just leave the basil out. Simply add it when reheating the soup.
Enjoy it with crusty bread or croutons!
Ingredients:
500g courgettes (zucchinis) [1lb]

500g tomatoes [1lb]

1 red onion (finely chopped)

2 large garlic cloves (crushed)

large bunch of fresh basil
From the cupboard
2 tsp ground coriander

1 Tbsp sun-dried tomato purée

1 Tbsp flour

1 Litre vegetable stock [1.75 pint / US 4 cups]

Olive oil

Salt & pepper
Method:
Heat some olive oil in a large saucepan and gently fry onion, coriander and garlic until soft.

Add roughly chopped vegetables, vegetable stock, tomato purée and flour. Stir together and bring to the boil.

Lower the heat and cook covered for 20 mins until vegetables are soft.

Liquidise the soup.

Add roughly chopped basil and liquidise again.

Season to taste.
Recipe design and image: Annabelle Randles/ The Flexitarian