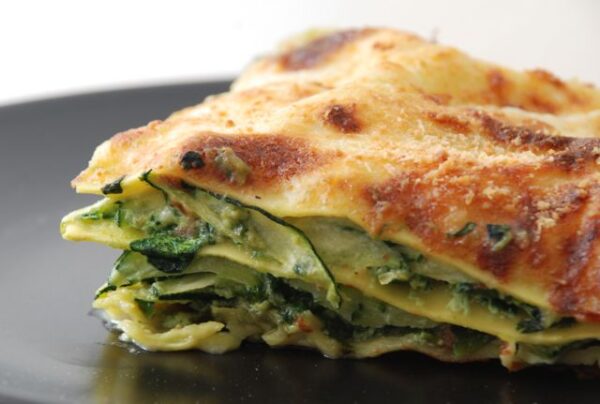 Here's a delicious recipe from 41 Feasts for an easy to make, vegetarian lasagne – a tasty and filling week night meal. Why not serve it with a handful of Sutton Community Farm's salad leaves for a plate packed with the farm's fresh flavours.
Ingredients:
1 oz butter
1½ oz flour
1 pint milk
½ tsp freshly grated nutmeg
300g spinach (or you could use chard or kale instead)
250g ricotta
500g courgettes, thinly sliced (use a mandolin if you have one)
salt and freshly ground pepper
125g fresh lasagne sheets
4 tbsp freshly grated parmesan
Directions:
Preheat your oven to 180 degrees centigrade
Butter a small lasagne dish
Start with your béchamel sauce – heat your butter gently in a medium pan and stir in the flour when its melted. Cook your roux for a few minutes. Slowly add the milk until you have a smooth sauce. Season with salt, pepper and the freshly grated nutmeg.
Wilt the spinach (or chard or kale) however you prefer and mix it with the ricotta and season with salt and pepper.
Spread a quarter of the béchamel sauce on the bottom of the dish and cover with lasagne sheets. Spread half the spinach and ricotta mix on top.
Next create a layer of courgette slices – you should use half the courgettes so it may be two or even three thick in places.
Cover with a quarter of the béchamel sauce and another layer of lasagne sheets.
And again with the rest of the spinach and ricotta, the rest of the courgettes, another quarter of the white sauce and the final lasagne sheets.
Finish with the last quarter of béchamel and sprinkle over the parmesan.
Cook for 30-40 minutes until it is bubbling and golden brown.
Rest for 5-10 minutes before serving.