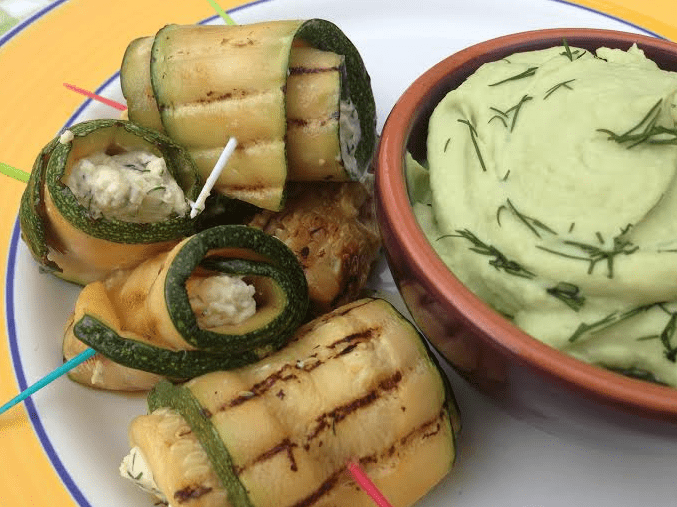 Makes: 7-8 rolls. Prep & Cooking Time: 30 minutes
Ingredients:
1 courgette, 300-400g

160-200g shelled/podded broad beans
2 handfuls of fennel tops or dill
juice of ½ lemon
5 cloves garlic
From the cupboard:
60g feta cheese

olive oil to taste

salt

4 tablespoons apple cider vinegar
4 tablespoons dark soy sauce
2 tablespoons natural yoghurt
Method:
Thinly slice the courgette lengthways. Marinate with salt, vinegar, soy sauce and olive oil.

Preheat a grill pan and grill the courgette slices for a few seconds each side. Leave aside until preparing the feta cheese filling.
Mash the cheese with 2 cloves garlic and one handful of fennel.
Roll the courgette slices with the cheese filling inside. Pin each one closed with a toothpick.
The houmous
Boil or steam the beans until tender and rinse under cold water to preserve their colour. If you don't like the skin of the beans you can peel it off.
Blitz the beans, lemon, remaining fennel and yoghurt in a processor or with a hand-blender until smooth, adding olive oil in a stream until you reach the desired consistency.
Recipe and image by Pavlina.