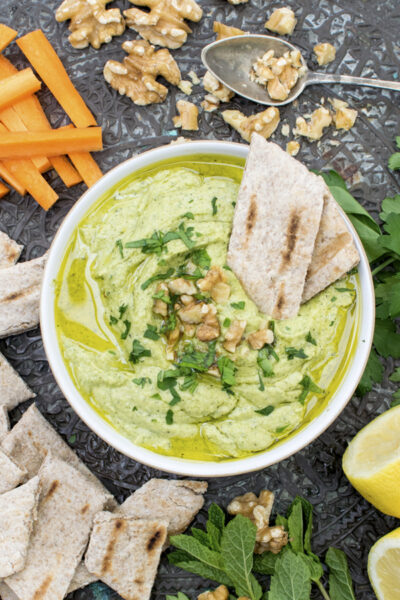 This flavoursome courgette dip is made with courgettes, tahini, mint and parsley. Delicious with raw vegetables and pitta bread but also perfect in wraps, this dip makes a nice addition to a mezze platter.
Many Middle-Eastern courgette dips use yoghurt but this vegan version is completely dairy-free. Do not hesitate to play around with the amount of mint and parsley to suit your own taste.
The courgettes are roasted first in the oven before being blended with the rest of the ingredients. I like to top this courgette dip with crushed walnuts and a drizzle of extra-virgin olive oil. It makes a scrumptious alternative to babaganoush.
This dip is ideal if you are trying to find new recipes to use that glut of courgettes! They always seem to come all at once for us.
Ingredients:
500g courgettes [1.1 lbs]

1 garlic clove

2 Tbsp chopped mint leaves

1 Tbsp chopped parsley leaves
From the cupboard:
50g tahini [1.75 oz]

1/2 tsp ground cumin

1/2 tsp ground coriander

1- 2 Tbsp lemon juice

salt

extra-virgin olive oil
To serve:
extra-virgin olive oil

crushed walnuts
Method:
Preheat oven to 220°C – 425°F/ fan oven 200°C / gas 7.

Cut courgettes in chunky 2cm [0.8 inch] dice. Spread the courgette dice on a medium baking tray, drizzle with some olive oil. Cover with foil and bake in the oven for 25-30 mins until soft.

Place cooked courgette in a blender with tahini, garlic clove, ground cumin, ground coriander, mint and parsley. Whizz until smooth. Transfer to a bowl and season to taste with lemon juice and salt.

Serve with an extra drizzle of extra-virgin olive oil and some crushed walnuts on top.
Recipe design and image by © Annabelle Randles | The Flexitarian