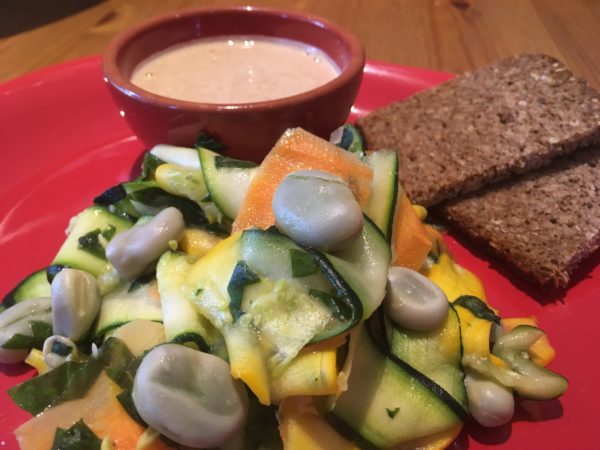 Serves: 2 as main or 4 as side          Prep & cooking: 20 min
Ingredients:
400-500g courgettes

100-200g carrots

400g broad beans (weight in their pods)

Handful of Basil

Half a lemon (the juice)

1 clove of garlic
From the cupboard: 
Olive oil

Salt to taste

Apple cider vinegar

100g peanut butter
Method:
Using a carrot peeler slice thinly the courgettes and carrots into thin strips. Finely slice the basil and crush the garlic.

Season with salt, dress with 1-2 tablespoons of olive oil and 1-2 tablespoons of apple cider vinegar, and mix together.

Set aside to rest. You can prepare this mixture up to 4 hours before you serve the salad. The salt will take out a lot of the water in the courgettes. Don't throw this away, you will use it for the dressing.

Pod the beans and steam or boil for about 10 minutes or until tender. Add them to the courgette mixture.
The dressing:
Mix the peanut butter and the juice of half a lemon

Strain the liquid from the salad and add to the dressing.

Using a hand blender mix everything together 
Recipe design by: Pavlina