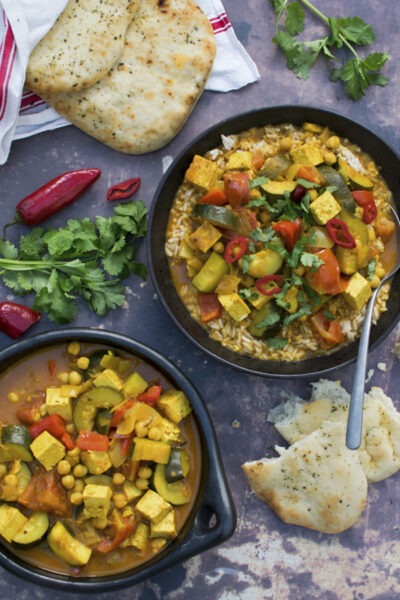 Cooked in a light and fragrant coconut and tomato sauce, this courgette & tofu curry makes a hearty main course that the whole family can enjoy.
I like to serve it with fresh coriander and chillies (for the grown-ups) on top and a side of naan bread and wholegrain rice.
This courgette & tofu curry is a quick and straightforward recipe that makes the best of seasonal tomatoes and courgettes. I included some tofu and chickpeas for some hearty plant-based protein. To release the aromas of the spices, it is best to heat them in oil first.
Ingredients:
1 onion

3 garlic cloves

1 red pepper

300g tomatoes

500g courgettes

juice of 1 lemon
From the cupboard:
olive oil

2 tsp ground coriander

2 tsp ground cumin

1 tsp turmeric

1 tsp yellow mustard seeds

1/2 to 1 tsp cayenne pepper

1 thumb freshly grated ginger root

2 Tbsp tomato puree

400 ml coconut milk

400ml vegetable stock

300g firm tofu

400g can chickpeas

salt
To serve:
fresh coriander

red chilli

naan bread

rice
Method:
Heat some olive oil in a large saucepan. Add ground coriander, ground cumin, turmeric, yellow mustard seeds, cayenne pepper. Heat and stir until mustard seeds start popping. Add grated ginger, chopped onion, crushed garlic and tomato puree.

Add red pepper cut in 2cm [0.8 inch] dice, courgettes cut in 1cm slices [0.4 inch] and tomatoes diced in eighths. Add coconut milk and vegetable stock. Bring to the boil. Reduce heat and add the tofu cut in 2cm [0.8 inch] dice. Simmer uncovered for 20 mins or so until vegetables are cooked.

When done, add drained chickpeas. Season to taste with lemon juice and salt.
Recipe design and image: Annabelle Randles/The Flexitarian