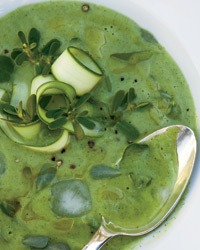 This is an absolutely delicious recipe from Food & Wine Magazine that makes great use of our farm's fresh courgettes and the incorporates the unrivalled super food that is summer purslane. We can't wait to try it! After all, there's nothing like a tasty, chilled soup to illustrate the adventurous chef that lurks inside of you, so why not give it a go for an impressive start to a laid-back summer dinner with friends.
Prep time: 25 minutes
Total time: 45 minutes
Servings: 12
Ingredients:
2 tablespoons extra-virgin olive oil, plus more for drizzling
1 small onion, thinly sliced
2 garlic cloves, thinly sliced
1 teaspoon thyme leaves
1 bay leaf
8 small courgettes (3 pounds), thinly sliced, plus long courgette shavings for garnish
Salt
3 cups water
2 tablespoons finely shredded basil
2 cups ice
Freshly ground pepper
2 cups purslane or baby arugula
Directions:
1. In a large saucepan, heat the 2 tablespoons of olive oil. Add the onion and garlic and cook over moderate heat until translucent, about 8 minutes. Stir in the thyme and bay leaf and cook until fragrant, about 1 minute. Add the sliced courgette, season with salt and cook, stirring occasionally, until tender, about 10 minutes. Add the water and bring to a boil. Remove the saucepan from the heat. Discard the bay leaf and stir in the shredded basil.
2. Working in batches, puree the soup in a blender until very smooth. Transfer the courgette puree to a large bowl. Stir in the ice. Refrigerate the courgette soup for at least 3 hours, until thoroughly chilled.
3. Season the soup with salt and pepper. Ladle into shallow bowls and top with a small handful of purslane and courgette shavings. Drizzle with olive oil and serve.