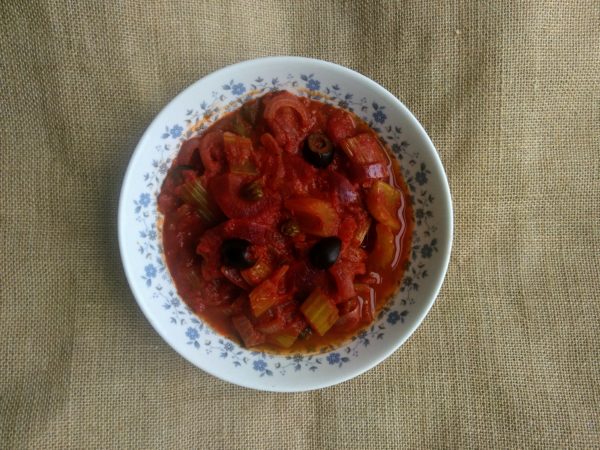 Spaghetti a la Puttanesca is a simple pasta dish, using the strong flavours of capers, olives, garlic, chilli and sometimes anchovies to liven up a tomato base. The strong flavour of celery can stand up to, and is complemented by the salty, umami rich ingredients. As well as using it as a pasta sauce, you can serve this on its own as a light meal, or serve it as a side dish – I think it would go nicely with fish although I have yet to try that. It's also a great way to use up sad, limp celery that isn't appealing to use raw. I have even made this using celery that got completely frozen at the back of the fridge and it was still yummy!
Ingredients
4 or 5 sticks of celery

2 cloves of garlic

Handful of chopped parsley or basil  to garnish (optional)
From the cupboard
1 tbsp olive oil

A tin of tomatoes

a small handful of black olives

1 tbsp capers

A pinch of chilli flakes

2 anchovies (optional)
Method:
Slice the celery into bite sized, 1 inch chunks

Peel and finely slice the garlic

Heat the oil in a thick bottomed sauce pan. When hot, add the garlic and cleery and cook for a minute or two, stirring regularly, until it is fragrant and starting to brown

Add the remaining ingredients – tomatoes, black olives, capers and chilli flakes (and anchovies if you are not veggie).

Stew over a low heat for at least 20 minutes. At this point the celery will still be quite crunchy. Cook longer, and top up the tomatoes with a splash of water, for a softer and more comforting version.
Recipe design by Alice