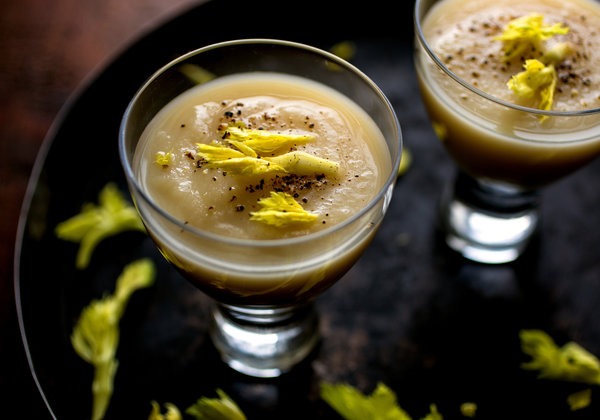 This week a sweet and savoury seasonal soup that will use more than one ingredient in your VegBoxes. Don't be alarmed if you have a no potatoes option, be adventurous and use parsnips instead of potatoes, it will still be a great flavour combination and would maintain the soft and rich consistency of the soup. The idea is to make a wholesome soup using some of this season's favourite organic vegetables. Try it out, and let us know what did you think about this combination!
Serves about 8 bowls
Ingredients
1 tablespoon extra virgin olive oil
1 medium onion, chopped
2 leeks, white and light green part only, halved lengthwise, cleaned and sliced or chopped
Salt to taste
8 cups celeriac, peeled and diced (retain tops for  garnish)
1 large potato , peeled and diced
2  apples, cored, peeled and diced
2 quarts water or vegetable stock
Freshly ground pepper to taste
Slivered celery leaves for garnish, optional
Preparation method
1. Heat the olive oil in a large, heavy soup pot over medium heat and add the onion, leeks and a pinch of salt. Cook, stirring, until tender, about 5 minutes. Add the celeriac and a generous pinch of salt, cover partially and cook for another 5 minutes, stirring often, until the celeriac has begun to soften. Add the potatoes, apples, water or stock, salt to taste. Bring to a boil, reduce the heat, cover and simmer 1 hour, or until the vegetables are very tender and the soup is fragrant.
2. Blend the soup in batches in a blender (cover the top with a towel and hold it down to avoid hot splashes), or through a food mill fitted with the fine blade. The soup should be very smooth. Strain if desired. Return to the pot. Stir and taste. Adjust salt, add freshly ground pepper, and heat through. Serve in small bowls or espresso cups, garnished with thin slivers of celery leaves.
The recipe is from Martha Rose Shulman taken with picture  from The New York Times