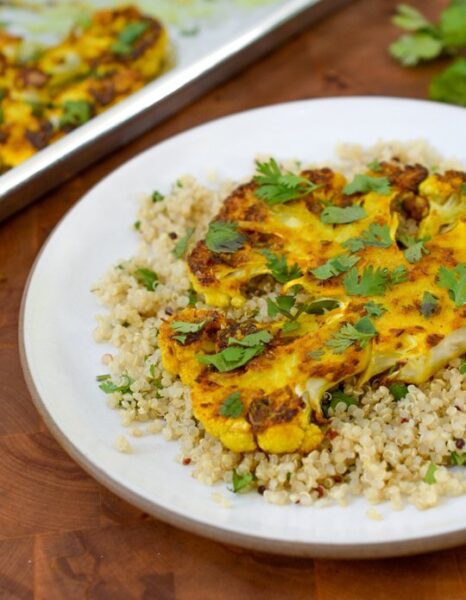 This week, a colourful dish that will possibly make you very excited about cauliflower.  Easy to make, it will take you only a few minutes and will make the best of that nutty flavour you get when roasting a cauliflower. You can make it your main vegan dish, on top of a bed of quinoa, or couscous, or even some wild vegetable rice. Or it can make a lovely side dish to a simple roast.
Check our All about: Cauliflower post here, to find out some interesting information on this dividing vegetable.
Serves 3
Ingredients:
1 large head cauliflower
Salt and pepper
2 tablespoons olive oil, divided
1 teaspoon freshly grated ginger
1 teaspoon ground cumin
1/2 teaspoon ground turmeric
Small handful of coriander, chopped
Preparation method:
Preheat the oven to 400°F.
Remove the leaves and trim the stem end of the cauliflower, leaving the core intact. Using a large knife, cut the cauliflower from top to base into three 3/4-inch-thick "steaks." Season each steak with salt and pepper on both sides. (Reserve any loose florets for another use.)
Heat 1 tablespoon of olive oil in a large skillet over medium-high heat. Sear the cauliflower steaks until golden brown, about 2 minutes on each side. Gently transfer the steaks to a baking sheet.
Whisk together the remaining 1 tablespoon of olive oil, ginger, cumin, and turmeric. Brush or spoon the mixture onto the cauliflower steaks.
Roast in the oven until tender, about 15 minutes. Garnish with coriander and serve.
Pictures and recipe are both from the Kitch.