Here's a recipe from Lavender and Lovage for a pizza base with a difference – it's made using cauliflower instead of flour making it gluten free and low in calories. Why not use the red spring onions in this week's bag for the topping, along with grated celeriac and wilted spinach.
Serves – 2
Prep time – 15 minutes
Cook time – 30 minutes
Total time – 45 minutes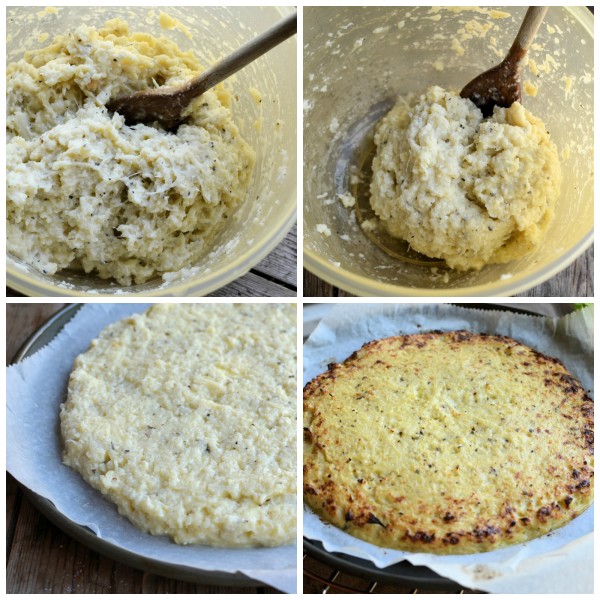 Ingredients
340g raw cauliflower, fresh or frozen (60 calories)
1 large free-range egg (74 calories)
75g low-fat mozzarella cheese, grate 50g and slice the remaining 25g for the topping (225 calories)
2 tablespoons finely grated Parmesan cheese (44 calories)
1/4 teaspoon dried basil (1 calorie)
1/4 teaspoon dried oregano (1 calorie)
1/4 teaspoon garlic granules or powder (2 calories)
sea salt to taste
freshly ground black pepper to taste
2 fresh tomatoes, thinly sliced (40 calories)
1/2 red onion, peeled and thinly sliced (20 calories)
1/4 teaspoon red chilli flakes (4 calories)
fresh oregano or basil, to garnish
Directions
Line a pizza stone or tray (or just an ordinary baking tray) with greaseproof paper and pre-heat the oven to 210C/420F/Gas mark 7.
Grate the cauliflower, or process it in a food processor; you are looking to achieve fine crumbs, but do not purée it. If using frozen cauliflower, squeeze excess water out of it and crumble with your hands if possible.
Microwave the cauliflower crumbs for 5 to 6 minutes, or until soft. You can also steam or boil the cauliflower, but you will need to squeeze the excess water out of it afterwards if cooked with water.
Place the cauliflower crumbs in to an large mixing bowl and add the egg, grated mozzarella cheese, Parmesan cheese, herbs, garlic powder, salt and pepper. Mix well, you should have a fairly stiff but malleable dough, as seen in my photos.
Place the cauliflower "dough" onto the prepared tray and pat out into a large circle, about 12.5cms (10″) in diameter and about 1.5cms (1/2″) thick. Spray the top with a little low-fat cooking spray and bake for 15 to 20 minutes, or until golden brown and firm.
Place the sliced tomatoes on top, sprinkle the chilli flakes over, scatter over the minced garlic and onion rings, season to taste with salt and pepper, and then arrange the sliced mozzarella cheese over the top.
Bake for 10 minutes or until the topping is bubbling and the cheese has melted. Scatter fresh oregano or basil leaves over and serve cut into wedges with salad leaves.