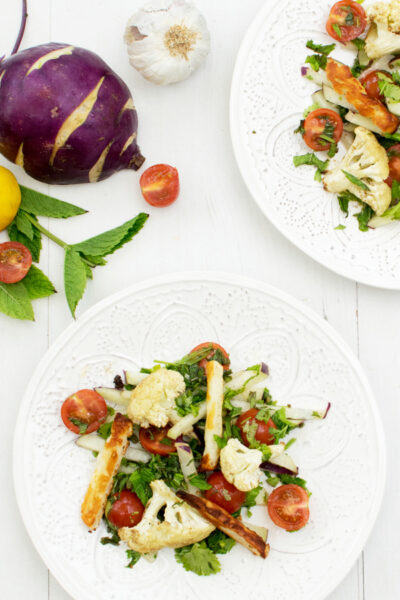 Prep : 10mins    Cook: 20 mins
This is another recipe designed around my community veg box which last week included a small cauliflower and a beautiful purple kohlrabi. Fresh and crunchy, this salad is packed with flavours. Serves 2 as a main or 4 as an appetiser.
Ingredients:
275g cauliflower florets [9.7 oz]
175g kohlrabi [6.20 oz]
225g cherry tomatoes [8 oz]
15g fresh mint [0.5 oz]
15g fresh coriander [0.5 oz]
1 garlic clove crushed
juice of 1 lemon
From the cupboard:
250g halloumi [8.8 oz]
1 tsp ground coriander
6 Tbsp olive oil
1 Tbsp maple syrup
1/4 tsp salt
Method:
Preheat the oven at 200C/400F/Gas 6.
Cut cauliflower in small to medium chunks. Toss in 3 Tbsp of olive oil mixed with 1 tsp of ground coriander. Bake in the oven for 20 mins.
Cut halloumi into slices. Place on a baking tray. When the cauliflower has been cooking for 20 mins, lower it in the oven. Put the grill on and place halloumi slices under the grill for 5 mins or so until golden and crispy.
In the meantime cut the kohlrabi into thin sticks. Halve cherry tomatoes.
Place vegetables in a salad bowl. Top with chopped mint and chopped coriander.
Make dressing by mixing together crushed garlic, lemon juice, olive oil, salt and maple syrup.
Add roasted cauliflower and grilled halloumi in a salad bowl. Toss well in dressing. Serve straight away.
Recipe design & photo: Annabelle Randles/The Flexitarian