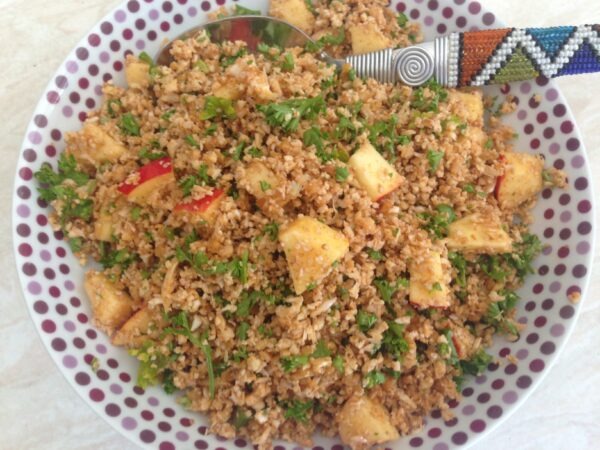 Serves 4 as a side
Prep & Cooking Time: 10-15 minutes
Ingredients:
1 head of cauliflower

2-3 apples
50g parsley
1 green garlic
From the cupboard:
50-70g walnuts or almonds

olive oil
salt
1 lemon or 1 orange
balsamic vinegar
1 teaspoon paprika
1 teaspoon cumin
1/2 teaspoon ginger powder
Method:
Whizz up the nuts and cauliflower in a food processor until it looks like couscous. Keep the nuts separate from the cauliflower.

In a frying pan toss the nuts with all the spices and finely chopped garlic (add 1-2 tablespoons olive oil).

Mix the nuts and the cauliflower couscous together.

Chop the apples in smaller cubes and add to the couscous mixture.

Sprinkle with as much parsley as you like.

Dress with lemon or orange zest and balsamic vinegar. Add olive oil if you like your couscous richer in taste

Chop finely the parsley and add when you serve.
The couscous is a perfect side to grilled fish, chicken/turkey breasts, all sorts of veg stir fry, gratins etc. It can also be an ideal light lunch. Simply add more nuts and it will be more filling.
Recipe by Pavlina