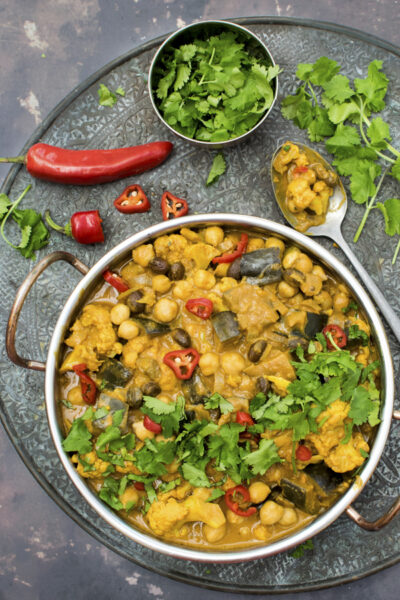 Spiced with garam masala and other spices, this fragrant cauliflower and aubergine curry is a year-round staple. Best made the day before so the flavours can develop overnight.
This is a mild curry dish but you can add chilli powder or fresh chilli if you prefer something spicier. I added some raisins for a touch of sweetness.
Serve it with wholegrain rice or naan and plenty of fresh coriander on top.
Ingredients:
500g cauliflower florets [1.1 lbs]

500g aubergines [1.1 lbs]

Fresh chilli to taste

bunch of fresh coriander

1 onion

3 garlic cloves

1 Tbsp fresh ginger
From the cupboard:
2 Tbsp garam masala

2 tsp ground cumin

1 tsp ground cinnamon

1 tsp turmeric

1 Tbsp tomato puree

2 Tbsp vegetable oil

75g raisins

400ml coconut milk [14 fl oz]

400g can chickpeas [14 oz]

lemon juice to taste

salt & pepper
Method:
Heat some oil in a large saucepan. Gently fry finely chopped onion until soft. Add crushed garlic, ginger, garam masala, cumin, cinnamon, turmeric and tomato puree.

Cut cauliflower florets into medium size. Cut aubergines into 2cm [0.8 inch] dice. Add cut vegetables to the pan.

Add vegetable stock and raisins. Cook for 15 mins.

Add coconut milk and drained chickpeas. Cook for a further 15 mins.

Season to taste with lemon juice, salt & pepper. Serve with chopped chillies and fresh coriander.
Recipe design and image by The Flexitarian © Annabelle Randles