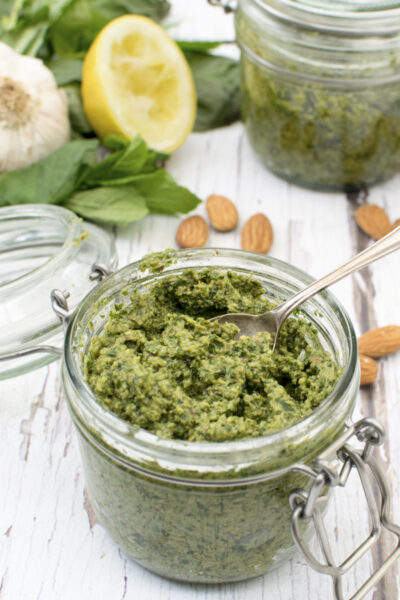 Packed with flavour, this vegan carrot top pesto is the perfect topping for pasta, rice, pizza, salads and even eggs.
Blended with basil, a hint of mint, lemon juice, almonds and olive oil; the leafy green carrot tops which often go to waste make a really tasty sauce.
There is no need to cook the carrot tops beforehand. Instead, you can simply blitz the raw ingredients in a food processor until you get your desired consistency. I prefer mixing the olive oil afterwards to avoid any bitter aftertaste.
Instead of pinenuts (they have become so expensive!), I have used almonds which can easily be swapped for cashews. For maximum flavour, make sure you use some high-quality extra virgin olive oil.

Ingredients:
leafy green carrot tops from 1 bunch of carrots

2 garlic cloves (crushed)

28g basil [1oz]

10g mint leaves [0.4 oz]
From the cupboard
75g unsalted almonds [2.6 oz]

125ml extra virgin olive oil 

1/2 tsp salt

2 Tbsp lemon juice

pepper
Method:
Roughly chop carrot tops, basil and mint. Place in food processor with crushed garlic and almonds. Blitz together until the mixture has a fine texture.

Transfer to a bowl. Mix in olive oil, salt and lemon juice. Season with some freshly ground pepper. Transfer to airtight jars. Keep refrigerated when not using.
Recipe designed by Annabelle Randles | The Flexitarian