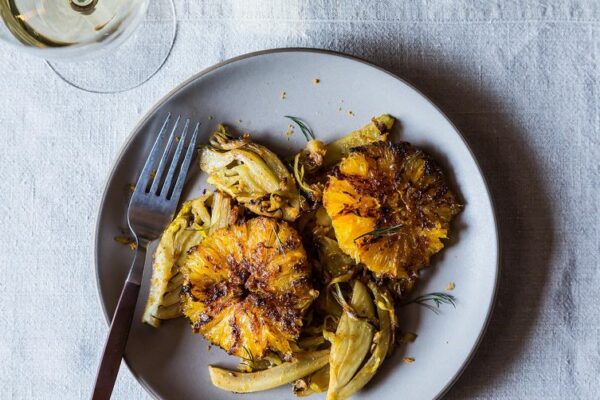 One evening towards the end of my VegBox-week I gazed into my stores only to find fennel and orange left from my regular veg and fruit order from the farm. A quick online search came up with this delicious recipe from Food52 that combines these two truly tasty ingredients and I was not disappointed! I replaced the sambuca/ouzo with white wine, the coriander with parsley, the leek with white onion and served it all on a bed of quinoa for a filling and flavourful weeknight meal. – Laura Jean
Serves 4
Ingredients:
1 tablespoon butter
1½ tablespoon coriander sugar (or whisk freshly ground coriander with unrefined sugar)
1 navel orange, peeled and pith removed, fruit cut into 1/2-inch rounds
Extra-virgin olive oil
1 fennel bulb, sliced 1/4-inch thick
1 large leek, white and light green parts sliced 1/4-inch thick on the diagonal (or onion)
Ground coriander (or parsley)
1/4 cup sambuca or ouzo (or white wine)
Salt and pepper
Zest of 1/2 orange, for garnish
2 tablespoons fennel fronds, chopped or picked, for garnish
Directions:
In a skillet just large enough to hold your orange slices in one layer, heat the butter. When it''s melted and is foaming, add the coriander sugar. When that is melted and has started to caramelized, lower heat to medium and add the orange slices. Cook 3 minutes, flip, lower heat to medium-low, cook 2 minutes more, and remove from heat.
In a large, deep skillet, heat some olive oil (enough to slick the bottom of the pan) over medium-high heat. When it's hot, add the fennel and leek slices and sprinkle with ground coriander. Sear for 3 minutes, flip, and add 1/4 Ouzo or Sambuca. Sprinkle somewhat generously with salt and cook 3 minutes more.
Remove the fennel and leeks from the heat and transfer carefully to a serving bowl. Layer the orange slices carefully over them, sprinkle with salt and freshly ground pepper, drizzle with a bit of olive oil, and toss the fennel fronds and orange zest over. Serve.