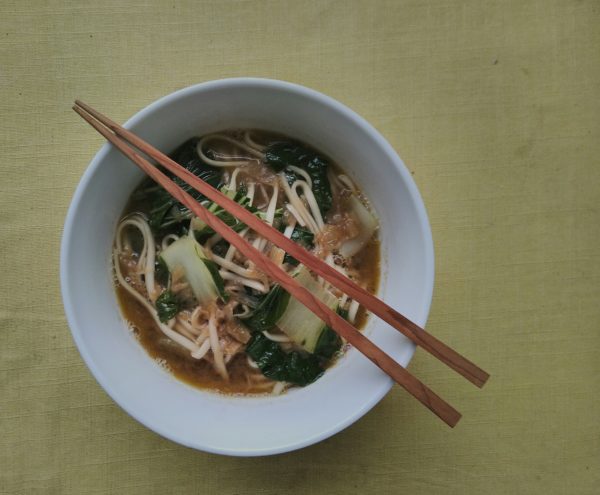 I modified this recipe from Meera Sodha's to include some of the farm's beautiful Pak Choi.
Serves: 2-3                                   Prep and cooking: 65 min
Ingredients:
3 large white onions, peeled and finely sliced

3 garlic cloves, peeled and finely sliced

200-300g pak choi, cut into thick slices
From the cupboard:
½ tsp salt

1 tsp chilli flakes (or to taste)

1.5 litres of vegetable stock

2 tbsp shaoxing wine, dry sherry or sake

1 ½ tbsp light soy sauce

1 tbsp white miso

Black pepper

200g wheat noodles
Method:
In a large heavy-bottomed saucepan, warm some rapeseed or vegetable oil over a medium heat. Add the onions, garlic and salt to the pan, stir to coat in the oil, then cook for 10 min, until the onions become stick and translucent. Reduce the heat to low and continue to cook for another 30 min, stirring every 5 min. The onions will gradually start caramelise and colour, eventually breaking down into soft, sweet, caramel coloured paste.

Meanwhile cook the noodles according to packet instructions. Drain, refresh under cold water and stir in a bit of oil to keep them from sticking together.

When the onions are sticky add the chilli flakes and stock to the pan. Bring to boil and them leave to simmer. Add the shaoxing, sherry or sake and miso, and stir well to combine. Taste and adjust the seasoning.

Bring the broth into boil again and add the pak choi slices. Cook for a minute or two, until just tender.

Divide the noodles into 2/3 bowls and ladle the broth over the top. Make sure to share out the greens evenly!
Recipe adapted by Alice