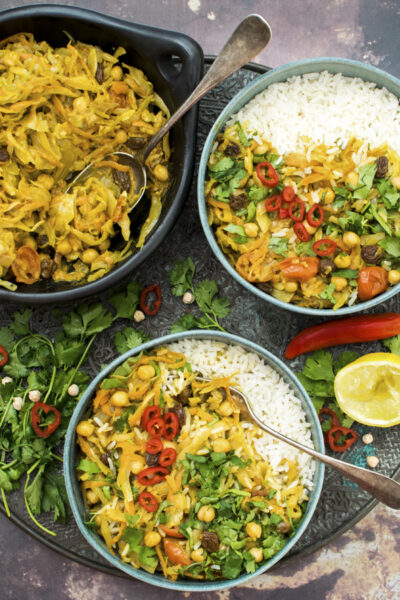 This light and tasty cabbage curry is the perfect recipe to jazz up some white or green cabbage. Quick and easy to make, this dish is served with rice, fresh coriander and some optional red chillies if you want a little bit more heat.
It is pretty versatile and you can use white, green or savoy cabbage for it.
The cabbage is cooked in a light coconut milk sauce with carrots, tomatoes, ginger, curry powder, raisins and chickpeas. I like using a mild curry powder but you can substitute with your favourite blend depending on how much heat you like.
This cabbage curry will reheat brilliantly the next day as flavours develop over time. It's the ideal recipe if you find some cabbage in your weekly veg box you are not sure what to do with.
Ingredients:
4 shallots

2 garlic cloves

1 Tbsp freshly grated ginger

500g cabbage (white or green) [1.1 lbs]

250g carrots [8.8 oz]

200g cherry tomatoes [7 oz]

fresh coriander (to serve)

extra red chillies (to serve) (optional)

lemon juice
From the cupboard:
2 tsp mild curry powder

400g can coconut milk [14 oz]

400g can chickpeas [14 oz]

75g raisins [2.6 oz]

salt
Method:
Slice cabbage finely with a sharp knife or mandoline. Grate carrots coarsely. Cut tomatoes in half.

Heat some oil in a large saucepan. Add finely chopped shallots, grated garlic, grated ginger and curry powder. Fry gently for 3-5mins.

Add sliced cabbage, grated carrot and halved cherry tomatoes. Cook covered under medium heat for 15mins. Stir from time to time so that the vegetables do not stick to the bottom of the pan.

Add coconut milk, drained chickpeas and raisins to the saucepan. Mix all together with the vegetables and cook covered under medium heat for another 15mins.

Season with lemon juice and salt.

Serve with rice, topped with finely chopped fresh coriander and extra red chillies (optional).
Recipe designed by Annabelle Ranles| The Flexitarian
Picture by © Annabelle Randles