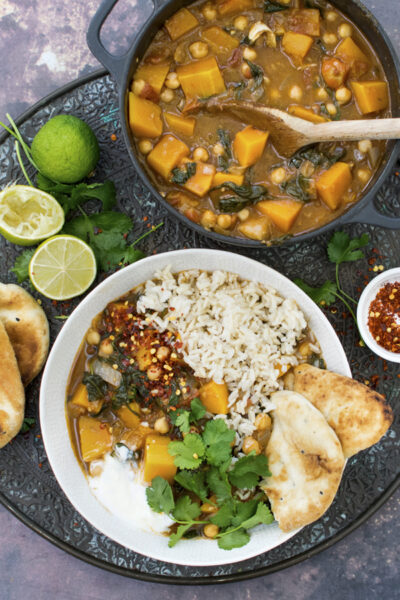 Prep Time 15 Minutes 
Cook Time 25 Minutes
Serves 6
Ingredients:
1 onion

3 garlic cloves (crushed)

500g diced butternut

200g spinach

1 heaped tablespoon of freshly grated ginger
From the cupboard
1 Tbsp garam masala

vegetable oil

1 tsp tamarind paste

375ml vegetable stock

400g can chopped tomatoes

400g can chickpeas
To serve:
rice

fresh coriander

(dairy-free) yoghurt

lime juice

naan bread
Method:
Cut peeled butternut into 1.5cm [0.6 inches] dice.

Heat some vegetable oil in a large saucepan. Add finely chopped onion and crushed garlic. Fry gently until soft.

Add grated ginger and garam masala. Fry gently for another minute or so.

Add butternut dice, chopped tomato, vegetable stock, tamarind paste. Bring to the boil. Cook covered for 20-25mins under medium heat until butternut is cooked (it should still have a bite). Don't forget to stir from time to time so that the vegetables do not stick to the bottom of the pan.

When done, stir the baby spinach with the vegetable and cook until wilted. Add drained chickpeas and cook for a few more minutes until heated through. Season with lime juice and salt if needed.

Serve with rice, topped with fresh coriander, naan bread and some (dairy-free) yoghurt.
Recipe design & image: Annabelle Randles/The Flexitarian