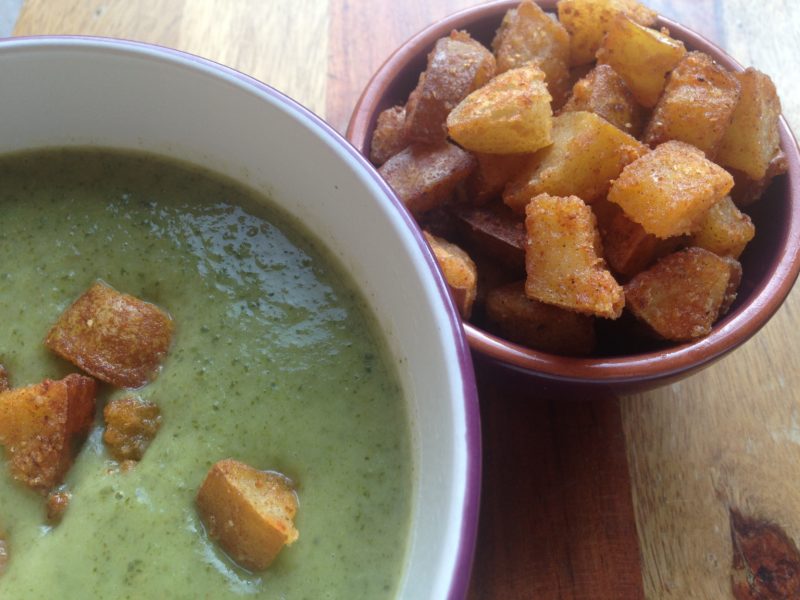 Serves: 4-6         Prep and Cooking: 30 minutes   
Ingredients:
200-300g potatoes

1 head of broccoli or 200-250g of purple sprouting broccoli (with the leaves)

200g spinach

1 onion (white or red)

1 stalk celery

3 cloves of garlic

2 firm pears
From the cupboard:
cooking oil

1 teaspoon dried thyme

3 tablespoons flour

½ teaspoon paprika

½ teaspoon cumin

½ teaspoon dried garlic

salt to taste
Method:
Prep all the veg: slice the onion, cube the potatoes and broccoli stalk and chop the spinach (with the stalks) and the celery.

In a cooking pot fry all the veg for about 5 mins. Add salt, dried thyme and crushed garlic and keep stirring.

Add boiling water to the pot and cook until done. Whizz the soup with a hand-blender until smooth.
Pear croutons
Cube the pears.

On a plate mix the flour (you can use any flour), paprika, salt, cumin and dried garlic. Bread the pear cubes in the mixture.

Preheat cooking oil in a frying pan. Fry the breaded pear cubes on medium heat until golden. Don't overcrowd the pan. When done, remove from pan and place on kitchen paper to soak up the excess oil.

Sprinkle pear croutons on top of the blended soup.
Recipe design by Pavlina