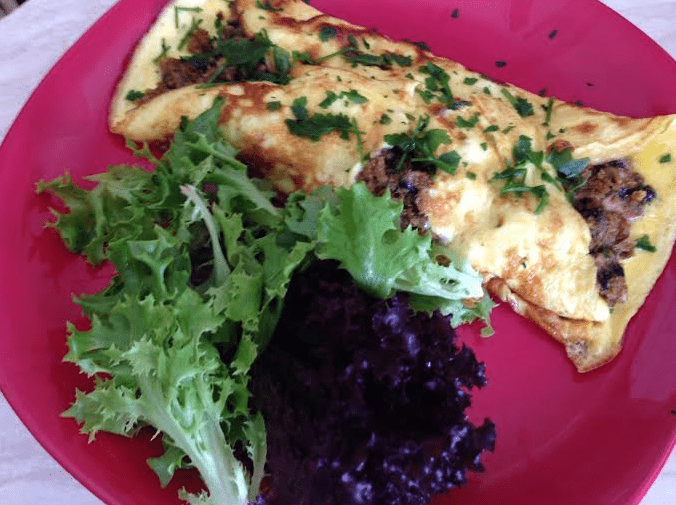 Serves 1. Prep & Cooking Time: 10-15 minutes
Ingredients:
3 large broccoli florets

1 small onion or spring onion
2-3 large mushrooms
2-3 cloves garlic

parsley for sprinkling
From the cupboard:
2 eggs

40g milk or cream
25g cheddar
handful of walnuts
mild curry powder
cumin
paprika
soy sauce
cooking oil
Method:
Finely chop the broccoli and onions. If you have a blender you can whizz them up into rice.

In a non-stick pan stir-fry the onions, broccoli and garlic for 3-4mins, then add the chopped mushrooms and keep stirring.
Add a little salt to take the juice out of the mushrooms. It will moisten the mixture so you don't need to use very much oil. Season with the spice and soy sauce. Crush the walnuts and mix with the rest. Set aside until you make the omelette.
Whisk the eggs and milk. Add grated cheddar (you can use any type of cheese to your taste).
Preheat a non-stick pan and heat with a little cooking oil. Pour the egg mixture into it and let it fill the pan. Lower the heat and don't stir. When the surface is no longer liquid and has firmed, add the stuffing and fold the omelette whichever way is easiest.
Sprinkle with parsley.
Recipe and image by Pavlina.