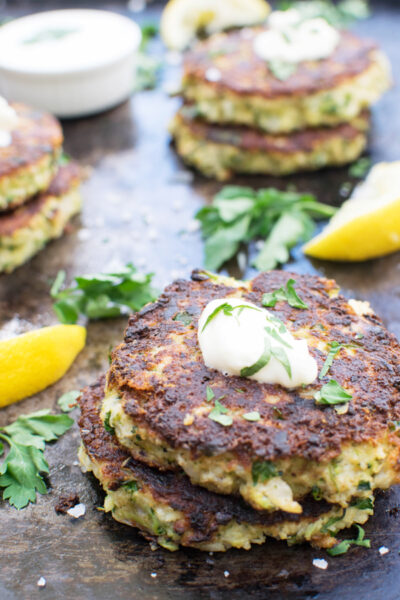 Servings : 10-12 fritters                 Ready in : 45 Minutes
Grated broccoli and cauliflower with some cheddar cheese and mild spices. These veggie fritters are always a big hit in my house. You can eat them hot, cold or at room temperature. Leftovers are great for lunchboxes.
Ingredients:
300g broccoli florets (10.5 oz)

300g cauliflower florets (10.5 oz)

50g finely chopped onion

2 garlic cloves (crushed)

1 handful chopped parsley
From the cupboard:
125g cheddar [4.4 oz]

4 organic eggs

4 Tbsp breadcrumbs

1/4 tsp nutmeg (or more to taste)

1 tsp garam masala

salt & pepper

vegetable oil to fry

yoghurt and lemon to serve
Method:
Heat some water in a large saucepan.

With the coarse side of a cheese grater, grate broccoli and cauliflower florets.

When water is boiling, tip grated broccoli and cauliflower in the saucepan and blanch for 3-4 mins. Drain well, extracting as much water as possible.

Place vegetables in a large bowl. Add chopped onion, crushed garlic, beaten eggs, breadcrumbs, grated cheddar, parsley, nutmeg and garam masala. Mix until well blended. Season to taste. If the mix does not hold together well, you can add some more breadcrumbs.

Heat some oil in a non-stick frying pan.

When oil is hot, spoon one generous tablespoon of vegetable mixture. Flatten it with a flipper/ turner spatula.

Cook for 3 to 4 mins until you can flip it on the other side. When done transfer to a warm plate in the oven. Cover with foil.

Repeat for each fritter. Depending on the size of your frying pan, you might be able to cook more than one fritter at the time.
Serve with yoghurt and some lemon. The fritters can be eaten warm or at room temperature.

Recipe design and photo: Annabelle Randles/The Flexitarian