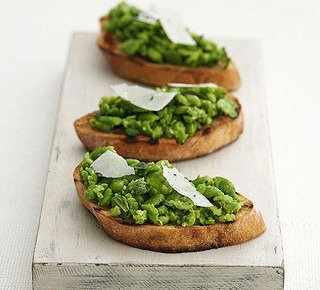 Serves: 2 as a main, 4 as a side
Prep: 15 – 20 mins
Ingredients:
400g broad beans (in their pods)
a handful of dill
For the dressing
10 tablespoons olive oil
4 cloves garlic
5 tablespoons cider vinegar
salt to taste
Method:
Shell the beans. Cover with boiling water and leave while you prepare the dressing.
Mix the crushed garlic, olive oil, cider vinegar and salt and beat until creamy.
Drain the beans. Crush with a fork, season with finely chopped dill and mix with the dressing.
Serve on toasted bread or as a side dish.
Recipe from The Food Fairy. Image from http://www.farringtons.co.uk/useful-stuff/crushed-broad-bean-mint-bruschetta/.