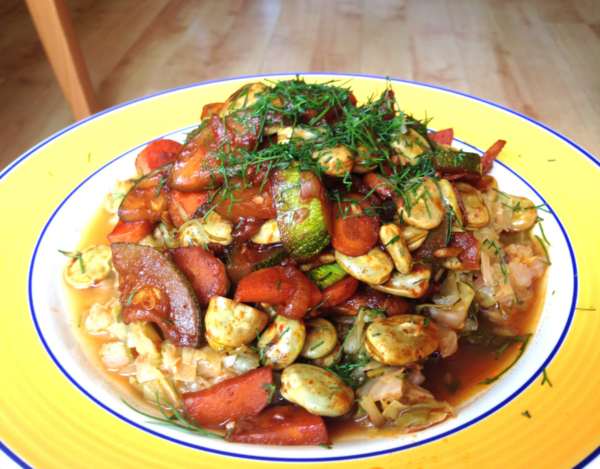 Serves: 2-3. Prep & Cooking Time: 30-40 minutes
Ingredients:
1 courgette, 400-500g

400g broad beans (unpodded/unshelled)
1 medium cabbage
1 handful of fennel tops or dill
1 large carrot
1 onion
3-4 celery stalks
100g tomatoes
From the cupboard:
cooking oil

2 teaspoons paprika

1 teaspoon mild curry powder

soy sauce
Method:
The Medley:

 Chop the cabbage the way you like it. Finely chop and add the celery and stir-fry until the cabbage softens. Chop the tomatoes and add to the mixture.

Season with salt and paprika while stirring. Add boiling water to cover the cabbage and leave to cook for about 15-20 mins.

The Stir-Fry:

 Chop the onion, courgette and carrot, pod the broad beans and stir-fry in a pan for 10 mins.
Season with salt, paprika, curry powder and soy sauce and keep stirring for another 2-3 mins.
Add a little boiling water to almost cover the veg and reduce the heat. When the water has evaporated your stir-fry is ready. Sprinkle with finely chopped fennel tops or dill.
Serve the stir-fry on top of the cabbage or enjoy them separately.
Recipe and image by Pavlina.