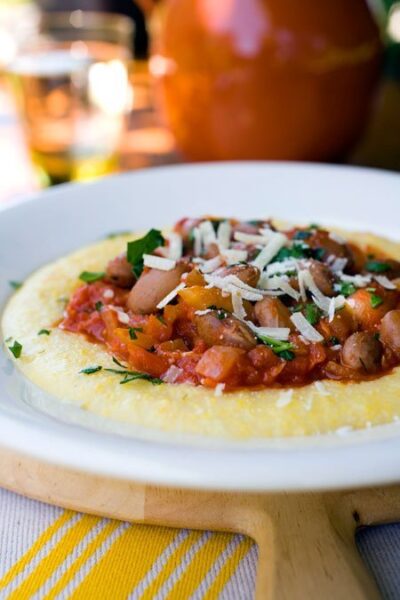 Here's a lovely autumnal meal that we've adapted from The Kitchn to incorporate our farm's fresh borlotti beans. For a streamlined process, make the tomato sauce and the beans ahead and heat them together while you cook the polenta.
Serves 4 to 6
Ingredients:
Tomato Sauce:
3 tablespoons unsalted butter
1/2 florence long shallot, chopped
1 medium fennel bulb, trimmed and chopped
3 garlic cloves, finely chopped
4 teaspoons chopped fresh oregano
1/4 teaspoon red pepper flakes
Salt
1 small carrot, peeled and shredded
A can of whole San Marzano tomatoes or plum tomatoes
Freshly ground pepper
2 cups borlotti beans, out of their shells
1/3 cup chopped fresh flat-leaf parsley
Polenta:
4 cups water
1 teaspoon salt
1 cup polenta
2 tablespoons unsalted butter
1/2 cup freshly grated Parmesan cheese, plus more for garnishing
Freshly ground pepper
To make the sauce:
In a small Dutch oven or other heavy pot over medium heat, melt the butter. Add the onion, the fennel, the garlic, 2 teaspoons of the oregano, the red pepper flakes, and a pinch of salt. Add the tomatoes, stirring to break them up with a wooden spoon. Next, add the borlotti beans, reduce the heat to low and cook, uncovered, at the barest simmer, stirring occasionally for 45 minutes to an hour. Add another pinch of salt and the rest of the vegetables, stewing for one or two hours until they're soft. Add the remaining 2 teaspoons oregano and salt and pepper to taste. The sauce can be made up to this point 1 or 2 days ahead. Let cool and refrigerate.
To make the polenta:
About 45 minutes before serving, bring the water to a boil in a medium, heavy-bottomed saucepan. Add the salt and, whisking continuously, slowly pour the polenta into the water in a thin stream. Reduce the heat to low and cook, stirring nearly constantly with a long-handled wooden spoon, until the mixture thickens, the grains soften, and the polenta begins to pull away from the sides of the pan, 40 to 45 minutes. Stir in the butter and 1/2 cup of the Parmesan, and season with pepper. Cover to keep warm.
Add the beans to the tomato sauce and warm them together over medium-low heat, stirring occasionally. Stir in the parsley about 5 minutes before serving.
Spoon the polenta into warmed shallow bowls and make a well in the centre of each serving. Spoon the tomato sauce into the well. Garnish with Parmesan cheese.