Recipe contributed by Gerwin from Gerwin's Greens.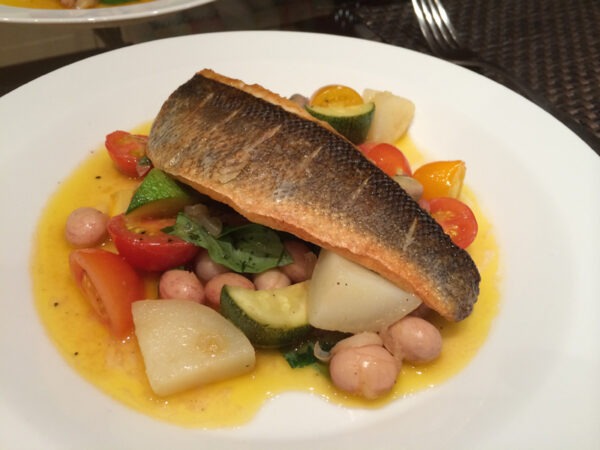 About two weeks ago I spent half a day at Sutton Community Farm to see how they were working and to pick up any tips for my own little farming project that I have here in Switzerland.
When I left, Production Manager Joris gave me a bag of veggies to say thank you for my help and I made a delicious dinner out of it. Here's the recipe so that you can give it a try yourself at home.

This recipe makes enough for 4 people.

Ingredients:
Red Onions
Leek Potatoes
Borlotti Beans
Courgettes
Tomatoes
Garlic
Carrot (optional)
Celery (optional)
Thyme
Basil
Bacon
Chicken stock (optional)
4 seabass fillets, about 120-150g each in weight
Directions:
Peel the potatoes and cut into bite size chunks. Blanch in boiling salted water until just done, drain and leave to cool.
Half or quarter the tomatoes, toss with a bit of olive oil and some salt and pepper. Spread the tomatoes out on a baking tray and roast very shortly in the oven at 150°C until they are just going soft. This should only take about 8-10 min. Give them a bit longer if they are still quite firm after the indicated roasting time. This will just bring the sweetness of the tomatoes out.
Cut the courgettes into bite size chunks and sweat them in a bit of olive oil with a pinch of salt and pepper until done. Ensure not to colour the courgettes.
Peel the red onion, slice into thin rings and sweat in a bit of olive oil with a pinch of salt until tender. This will bring the sweetness of the onion out.
Drain the borlotti beans, pick the veg for the mirepoix (a mixture of chopped celery, onions, and carrots) out. Save the cooking liquid of the beans.
Mix the borlotti beans with the warmed tomatoes, potato chunks and courgette chunks and onion rings in a suitable pan or bowl. Heat very gently until just a bit warmer than body temperature.
Add a drizzle of white wine vinegar and a few spoons full of the bean cooking liquid and check the seasoning. Set aside.
Remove any pinbones and scales from the seabass and pan fry with the skin side down in a little drizzle of olive oil until the skin is golden brown.
Then take the pan off the heat, turn the bass over and give it another 30 sec to 1 minute to finish the cooking. Drizzle a few drops of lemon juice onto the fish and season with salt.
In the meantime dress the salad on the plates and sprinkle some torn basil leaves over it.
Top with the pan fried seabass fillet and serve with some crusty bread to soak up all the juices at the bottom of the plate.
Enjoy your meal!