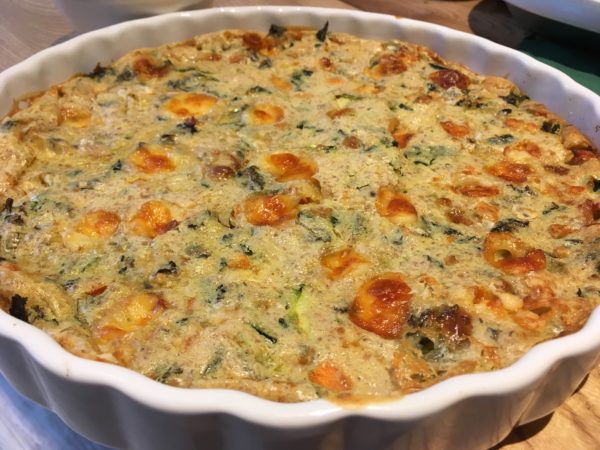 Prep and Cooking: 45  minutes
Ingredients:
2 carrots

1 stalk celery

Leaves of 1 leek

200-250g of leafy greens (pak choi, spinach, kale, kalettes, chard)

2 cloves garlic

Handful of Parsley
From the cupboard:
Cooking oil

30g olive oil

200 ml full fat milk

140 gr flour of your choice

3 eggs

20-30g cheddar cheese

200g natural yogurt

½ teaspoon mild curry powder

½ teaspoon black pepper
Method:
Stir-fry the leafy greens with carrots and celery chopped in cubes half way through. Season with salt, curry powder and black pepper

Preheat the oven at 180 degrees. Place the stir-fried veg into a deep baking tray or quiche dish and bake for about 10 min.

Mix the eggs, milk, flour and olive oil into crepe mixture. Season with salt to taste.

When the veg in the oven are warmed up pour in the crepe mixture on the top. Chop the cheddar into small cubes and sprinkle over the dish

Bake for another 15 min until golden brown
Serve the dish with natural yogurt dip seasoned with parsley and crushed garlic.
Recipe design and image by Pavlina