— Contributed by Carlota Sanchez
After a week I was finally able to open my pickle jars! So, I invited a friend for a warm, wholehearted autumn meal to celebrate the harvest and the qualities of the season. To accompany the pickles I made brown rice with green tomatoes, carrots and purple cabbage – all fresh, seasonal and organic vegetables.
It may seem strange to eat green tomatoes when they haven't ripened in the poly tunnels but they are great in broths and soups. In my opinion they should just be cooked for longer but they still have that slight sweet taste that we find in ripened tomatoes.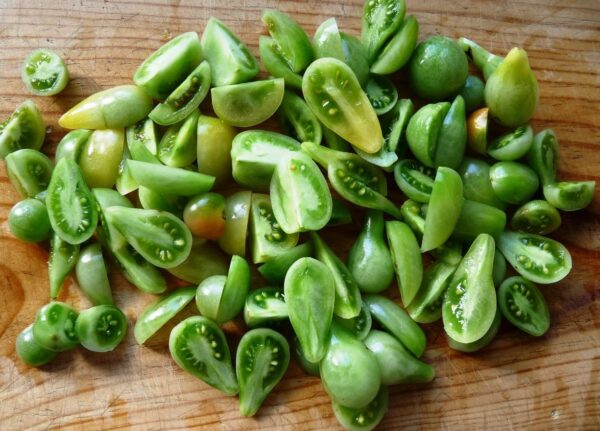 Recipe
 Ingredients
Olive oil
2 garlic cloves
Green tomatoes
1 carrot
Purple cabbage
1 cup of brown rice – pre-cooked in water
Smoked paprika
Black pepper
Thyme
1 cup of vegetable stock
Preparation method
1. Dice two small cloves of garlic into small pieces and chop the green tomatoes into halves.
2. In a pan, cook the garlic with some olive oil until tender.
3. Add the green tomatoes and a pinch of salt, put lid on so that they can release water.
4. When tomatoes have been slightly cooked add a teaspoon of smoked paprika and let it become a light paste, then add the chopped carrots.
5. Add fresh thyme and a cup of vegetable stock and cook in low heat. (For vegetable stock I just keep the water from boiling or steaming vegetables. I freeze it so I can make use of it later.)
6. Add the previously cooked brown rice with Kombu sea weed and let it cook for 2 minutes before adding another cup of vegetable stock.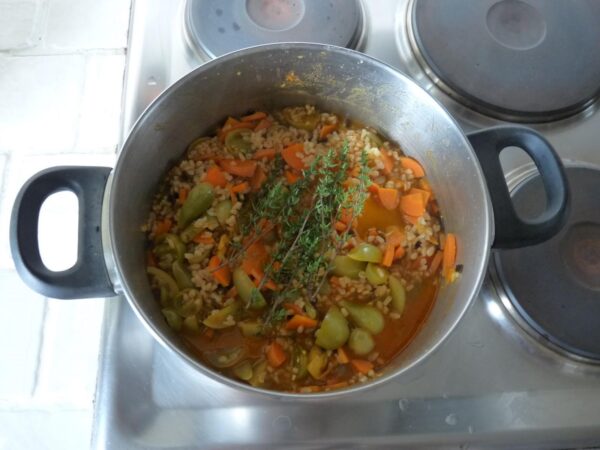 7. Let it cook for some time so the vegetables and herbs release flavour – add more fresh thyme if needed.
8. Finally, add the purple cabbage and place lid on until cabbage becomes soft and finish off with a bit of grounded pepper.
9. Serve with a bit of fresh parsley and some roasted sesame seeds for extra flavour. I added my home-made pickles, and some hijiki seaweed for some extra fibre.