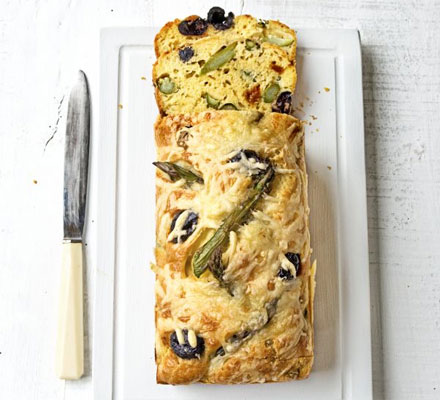 We're all for keeping your asparagus recipes simple – there's not much that can beat the flavour of the season's freshest asparagus when it's pan fried with a bit of butter. However, in case you're after something new here's an unusual and tasty way to use your fresh, British asparagus. This loaf recipe from BBC Good Food would make an excellent addition to any picnic and an ideal (and unusual) lunch-box filler for the kids.
Prep: 25 minutes
Cook: 40 minutes

Ingredients:
100ml olive oil, plus extra for greasing
250g asparagus spears, each cut into 3 pieces
200g self-raising flour
1 tbsp thyme leaves
3 large eggs, lightly beaten
100ml milk
handful pitted black olives
100g sundried tomatoes, roughly chopped
100g Gruyère or Beaufort, grated
Directions:
Heat oven to 190C/fan 170C/gas 5. Oil and line the base of a loaf tin (approx 22 x 10 x 5cm) with baking paper. Cook the asparagus in boiling, salted water for 2 mins, drain, then cool quickly under cold running water. Pat dry.
Mix the flour and thyme with seasoning in a large bowl. Make a well in the centre, then add the eggs, milk and oil, stirring all the time to draw the flour into the centre. Beat for 1 min to make a smooth batter.
Reserve 5 asparagus tips and a few olives. Add the remaining asparagus, tomatoes, olives and two-thirds of the cheese to the batter. Pour into the tin, then put the reserved asparagus and olives on top. Sprinkle with the remaining cheese. Bake for 35-40 mins until the cake feels firm to the touch and is golden and crusty on top. Cool in the tin for 5 mins, then turn out and cool on a wire rack.