Words and images by Manisha Abeyasinghe
'Work with nature rather than against it.' Bill Mollison
On the weekend of 18th/19th March 2017, Michel Thill, Permaculture teacher and Social Landscapes Director, hosted an 'Intro to Permaculture' weekend at Sutton Community Farm. Despite the bracing winds sweeping across the fields and grey skies that hung around, 14 people with different backgrounds and aspirations, including a VegBox customer and ex-volunteer took part in the course. Some had travelled as far as east London and all were curious to find out more about permaculture and how this set of design principles can be applied to any area of life from finance to farming.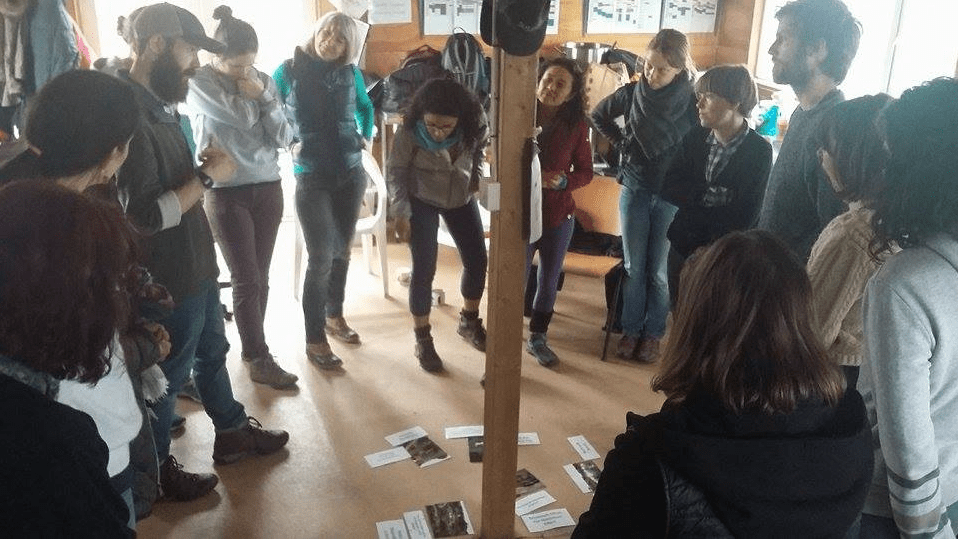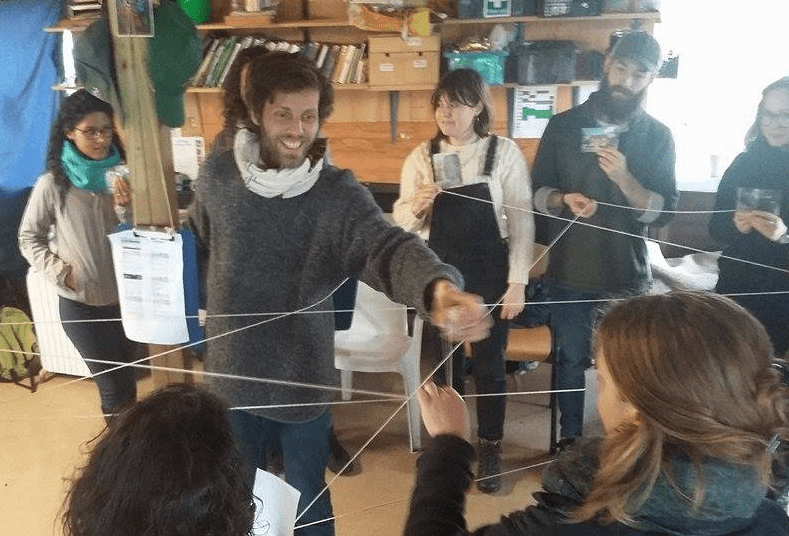 On Day 1, we discussed Bill Mollison and David Holmgren's Permaculture ethics and principles which are the bedrock of permaculture design and discovered connections and systems theory through a number of practical exercises. These included 'The Permaculture Chicken' which describes 'inputs and outputs' of different elements, and the 'Web of Life,' which includes pairing up elements and functions, and a ball of string. This exercise demonstrates the feedback loops and functions of multiple elements in any system and what happens when you change part of the system.
Participants were given a site tour of the farm to see how basic permaculture principles are applied on London's largest vegetable farm and learnt more about how staff and volunteers use the site from sowing seeds, to harvesting and packing vegboxes for customers every week.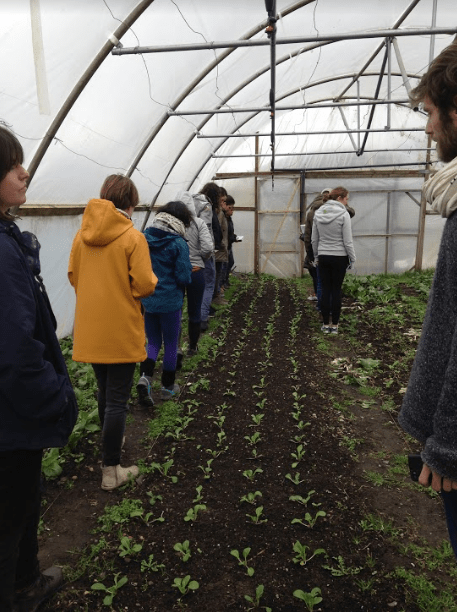 Currently, the farm is growing a variety of salad crops including buckler sorrel which is an easy-to-grow alternative to lettuce. Participants were pleasantly surprised by this delicious hardy perennial with its vibrant lemony taste, freshly picked from the farm as an accompaniment to the excellent dishes participants made to share for lunch. A participant has already suggested creating a 'Permaculture Weekend Recipe Book' which shows that systems thinking is just great for firing up the imagination!
On Day 2, participants were encouraged to apply permaculture theory and what they had absorbed from Day 1 into practice. Working together, they designed a 'landscape' taking into consideration different zones and sectors which is also integral to permaculture design. Using permaculture design tools like SADIM, participants were asked to 'design' aspects of the farm, incorporating some elements that could improve the site. Even the sun made a brief appearance long enough for participants to carry out the first permaculture principle, 'Observe the site'! Afterwards our 'permaculture designers' were asked to present their designs to the rest of the group demonstrating where they had used permaculture principles. The designs for the farm suggested adding signage throughout the site which could help create a deeper learning experience for visitors, and adding edible hedgerows across exposed areas which could create a windbreak, protecting the vegetables from harsh weather.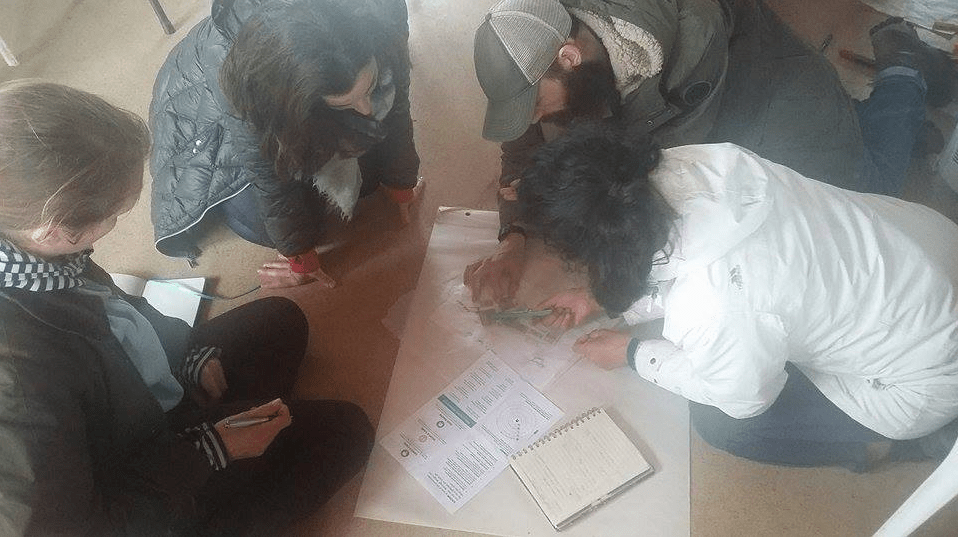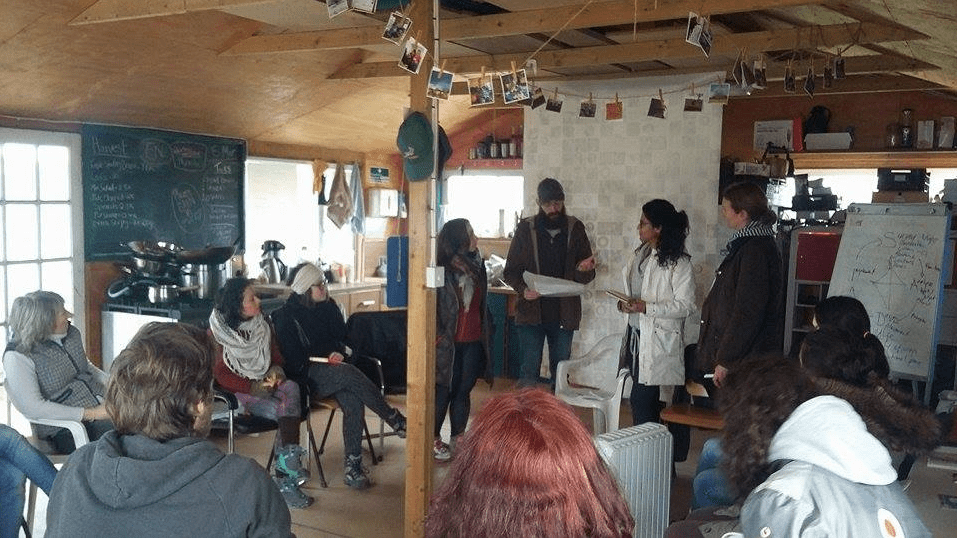 'Permaculture is common sense made good again.'                      www.sociallandscapes.co.uk/what-is-permaculture/
Participants rolled up their sleeves and got stuck in with an element of design by mulching the strawberries in the herb spiral. This technique mimics a forest floor, full of organic matter, which when it decays releases nutrients into the soil and is perfect for supporting new growth. The process of mulching included: digging out the strawberries and adding more compost to build up the bed; adding a layer of cardboard on top of the compost; cutting holes in the cupboard and replanting the strawberries in the holes; covering the cardboard with wood-chip. The layers of compost, cardboard, and wood-chip also keep weeds to a minimum which means less work for the farmer! Mulching is an excellent example of working with nature rather than against it, where traditional practices may include spraying crops with weed killer.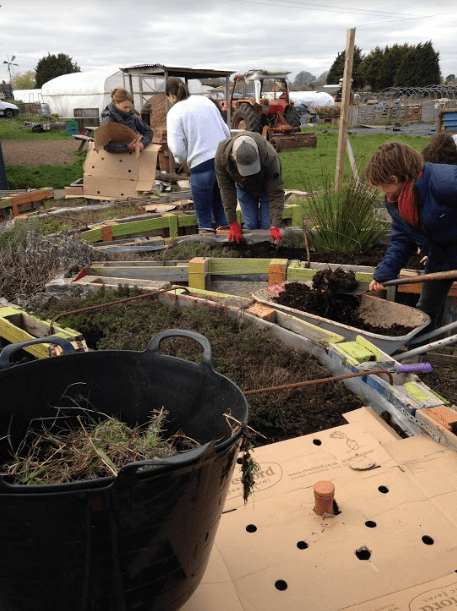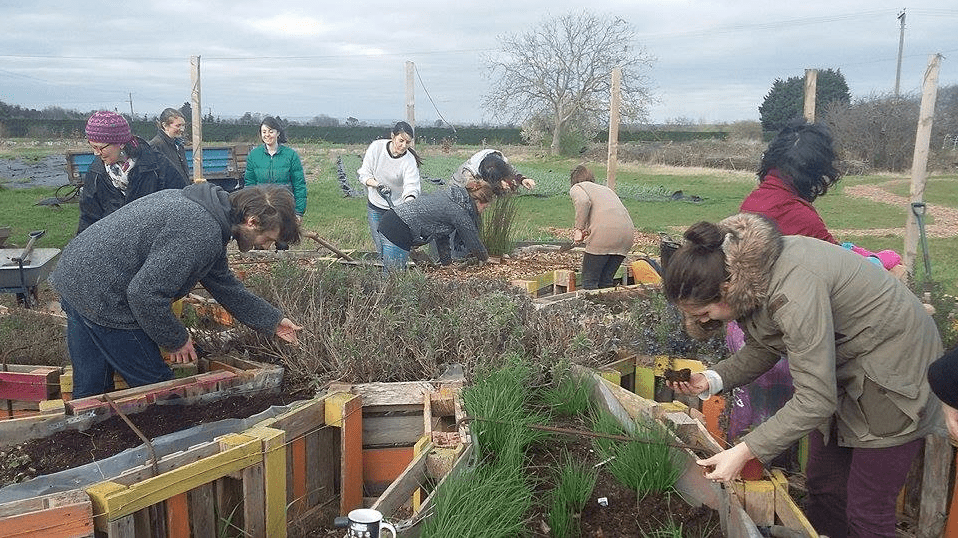 The weekend ended with a slideshow from the Open Projects Network showcasing examples of projects promoting sustainable practices which address community need and creative systems thinking.
Sarah said, "I enjoyed spending time with you and learning lots of new stuff. It was a great experience!" We are delighted to hear that the participants enjoyed the course and we wish them all the best on their future permaculture projects.
Sutton Community Farm is a great venue to hire out for courses, and with the new share offer launching in April, we hope to be able to invest in more amenities for the farm so that it can continue to prosper. If you are interested in joining the community in supporting the farm, please visit the following links:
We're a community-owned farm; click here to buy a share.
Interested in buying our Veg? Click here
Interested in volunteering? Click here