---
UPDATE: 20th July 2020 – We are currently receiving a very high volume of volunteer applications from people wishing to start volunteering at the farm. We are slowly welcoming new people to the farm to volunteer, but in order to manage this responsibly it might be a few weeks before you can start volunteering. Please be patient and understanding of our situation – and thanks for your support.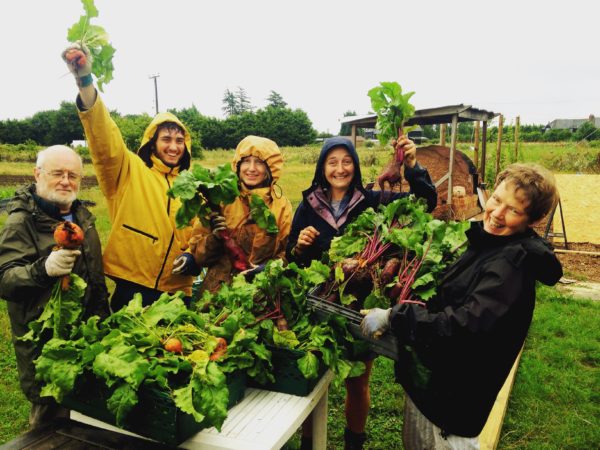 Why Volunteer?
Keeping a community veg farm running involves a wide variety of work. Most volunteers help out with practical activities, with a range of opportunities to work out in the fields or inside our Veg Shed helping with VegBox preparation.
Volunteers come to the farm for a variety of reasons. Many volunteers enjoy the opportunity to meet other people and give their time to a worthwhile community initiative. The work itself is great for improving physical health and mental well-being, and it's a joy to be outside in the fresh air, collectively working towards a more resilient local food system. Volunteers also benefit from the opportunity to learn new skills, gain confidence and expand their knowledge.
Volunteering at the farm is done on the understanding that volunteers freely give their time to do work at the farm without being paid.
Volunteer Roles
Volunteering roles can be split into four categories:
Crop Production: Working with the growing team in the fields and polytunnels. This covers all stages of crop production: seed sowing, planting out, harvesting, crop maintenance, clearing, composting.
VegBox Packing: Weighing, portioning, and packing fruit and veg. Completing customer orders, tidying the packing areas after each session.
Site maintenance and biodiversity: Assisting with DIY tasks, infrastructure, maintaining habitats.
Events: Particularly during the summer we go to fairs to tell the local community about the farm and encourage people to support us by buying VegBoxes, and to sell food made with farm produce
Please talk to us and specify your interests when filling out the Volunteer Application Form.
Weekly Volunteer Opportunities
In light of social distancing measures taken to minimise the risk of COVID-19 transmission, we have amended our weekly volunteer schedule and how we organise volunteers. In order to volunteer, you need to book yourself on to specific shifts using our online volunteer rota management system. You can only access this once you have been for your introductory session. As such, please don't come to the farm unless you have booked to, or you have been in email correspondence with Sonia to arrange your introductory session.
Here is our revised weekly volunteer schedule:
Tuesdays
Weighing, portioning and packing fruit and veg
Two short sessions: 10am – 12.30pm & 1.30pm – 4pm
You are welcome to come for either session, or both
If coming for both, please bring lunch with you
Wednesdays
Weighing, portioning and packing fruit and veg
Labelling individual VegBoxes so they can be delivered on Thursday
Morning session: 9am – 1pm
Afternoon session: 2pm – 4.30pm
Thursdays
Weighing, portioning and packing fruit and veg
Labelling individual VegBoxes so they can be delivered on Friday
Morning session only: 8am – 12pm
Fridays
Working out in the fields or in our polytunnels, engaging with crop production and horticultural tasks
Two sessions: 9am – 12pm & 1pm – 4pm
Saturdays (twice a month)
Weekend volunteering involves working out in the fields or in our polytunnels, engaging with crop production and horticultural tasks
Two sessions: 9am – 12pm & 1pm – 4pm
Our Saturday volunteering opportunities currently happen twice a month – usually the second and fourth Saturdays of the month
Upcoming Saturday volunteering dates in 2020:
Saturday 25th July
Saturday 8th August
Saturday 22nd August
Saturday 12th September
Saturday 26th September
Volunteer Application Form
Before volunteering at the farm you will need to complete a Volunteer Application Form.
Please wait to receive confirmation from Sonia before coming to volunteer for the first time.
Welcome Tour & Volunteer Inductions
After your first few sessions at the farm, you will be invited to join a Welcome Tour for new volunteers. This includes a full tour of the farm, learning about all stages of crop production and the different elements of our organisation. It will also cover important Health & Safety considerations.
Children, Vulnerable Adults & Supported Volunteering
DURING THE COVID-19 PANDEMIC, WE ARE NO LONGER ACCEPTING CHILDREN OR VULNERABLE ADULTS ON THE FARM.
Additional Information
We ask the volunteers to familiarise themselves with our:
You may also find out more information by reading our Volunteer Handbook (PDF).
Contact Us
If you have any questions please feel free to contact us directly by email.