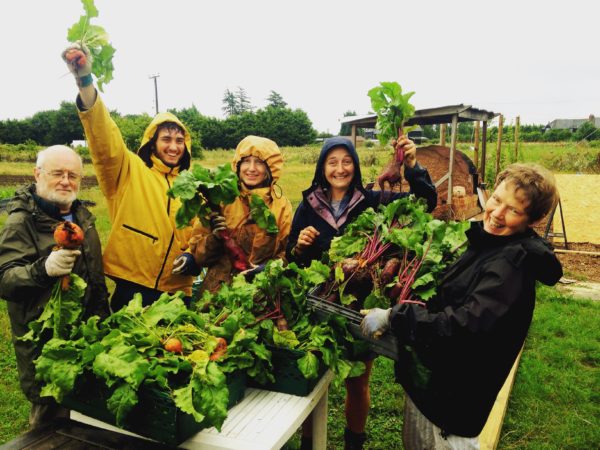 People can be part of our farm in many different ways. We welcome volunteers to come and muck in. If you're with an organisation looking for a fun, wholesome day out, we also run Team Challenge Days.
Why volunteer?
Volunteers come to the farm to learn new skills, share knowledge, meet people and be inspired. We have had more than 3,000 volunteers since 2010 and are always welcoming new people. Keeping a community farm running involves a wide variety of work. Most volunteers help out with practical activities, and there are opportunities to work outside in the field or inside our Veg Shed helping to portion and pack fruit and vegetables.
Volunteer roles
Volunteering at the farm is done on the understanding that volunteers freely give their time to do work at the farm without being paid.
Volunteering roles can be split into four categories:
Growing and harvesting: Working with the growing team in the fields and polytunnels (mostly outdoor activity)
VegBox preparation: Weighing, packing and completing customer orders, tidying the packing areas after each session (mostly indoor activity)
Site maintenance and biodiversity: Assisting with DIY tasks, infrastructure, maintaining habitats (outdoor activity)
Events: Particularly during the summer we go to fairs to tell the local community about the farm and encourage people to support us by buying VegBoxes, and to sell food made with farm produce
Please talk to us and specify your interests when filling out the Volunteer Application Form.
When can I come?
Tuesdays 2pm-4.30pm (VegBox packing only): On Tuesday afternoons we do preparation work for our VegBox packing on Wednesdays and Thursdays. This involves working alongside our team inside the Veg Shed, weighing fruit and veg into portions.
Wednesdays 9am-4.30pm (Growing & harvesting / VegBox packing): This is our main community volunteering day and there's lots to do, from planting and harvesting to portioning the produce for our VegBoxes. We also provide a shared lunch at 1pm. We ask new volunteers to come on Wednesdays at 10am and recommend that people come and try out volunteering a few times. If you feel it's suitable then we will give you a full site induction and you can continue to volunteer.
We run two volunteering sessions on a Wednesday: the morning session is 9am – 1pm, the afternoon session is 2pm – 4.30pm.
Thursdays 8am-12pm (VegBox packing only): On Thursday mornings we prepare our VegBoxes for delivery. This involves working alongside our team in the Veg Shed, packing the produce into bags ready for distribution, and for this role we are looking for volunteers to commit to a longer period.
Saturdays 10am-4pm currently once a month (Growing & harvesting only): During the height of the growing season from April to October we are open twice a month on Saturdays. From November to March we are open only once a month. Our Saturday volunteering opportunities are for people wishing to get involved in all stages of crop production and horticulture (eg. seed sowing, planting out, harvesting, crop maintenance, clearing and composting). If you are volunteering for the whole day on a Saturday please bring your own lunch as there are no shops nearby.
Upcoming weekend volunteering dates in 2020:
Saturday 14th March
(there will be two Saturdays in April, the date of the first one is TBC)
Saturday 25th April
Saturday 9th May
Saturday 23rd May
Volunteer Application Form
Before volunteering at the farm you will need to complete a Volunteer Application Form.
Site inductions
After your first few sessions at the farm, you will have a full site induction. This includes a full site tour, discussion of your role and interests and important Health & Safety considerations. We run site inductions usually on the first Wednesday of every month.
Buddy Volunteering
We are looking for new Buddy Volunteers to support our community volunteering days at Sutton Community Farm. This is a programme where we provide training to volunteers who are interested in taking on extra responsibility at the farm, particularly in supporting volunteers who have mental health problems and learning disabilities. Please visit our Buddy Volunteering page to learn more.
Children, vulnerable adults and extra support
We aim to create a welcoming, safe and inclusive space for the community, with equal opportunities central to our mission. If you are supporting a vulnerable adult or consider yourself a vulnerable adult and would like to join in you need to complete a volunteer application form and someone from the staff team will be in touch. While we do our best to accommodate everyone, we have limited staff capacity and an obligation to ensure a safe workplace.
At present people under the age of 16 are not permitted to volunteer at the farm unless under the supervision of a responsible adult. We have Safeguarding Policies for Vulnerable Adults and Children, as well as an Equal Opportunities Policy and Health & Safety Policy, which are all available upon request.
Only children aged 8 and above can come along and volunteer at the farm with a responsible adult. A maximum of two children aged 8 – 15 can be on the farm at the same time, and you'll need to let us know you're coming in advance by emailing our Community Engagement Coordinator, Sonia (sonia@suttoncommunityfarm.org.uk). If you're coming with children you are welcome to come on our main community volunteering days (either Wednesdays or our open Saturdays, see above for dates), as we don't have the capacity to accommodate on any other days.
Additional information
We ask the volunteers to familiarise themselves with our:
You may also find out more information by reading our Volunteer Handbook (PDF).
Contact Us
If you have any questions please feel free to contact us directly by email.