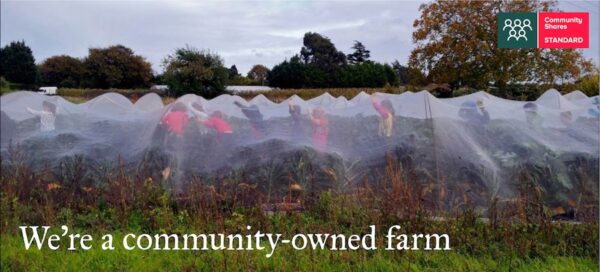 Community Share Offer – first round now closed as of 29th February, 2016
Thanks to the generosity of more than 130 investors we have well exceeded our initial target of £10,000. In fact we raised more than £18,000 that will make an important contribution to our working capital. We are now a community of more than 140 member share-owners. This support is very important to us and will give us a big boost over the coming months.
Future share offers
We will invite people to invest in our farm and become co-owners through future share offers, details to be confirmed. By investing, you will be supporting a new approach to farming; one that's sustainable, resilient and benefits people as well as the planet.
Being a shareholder means you can join in and help shape who we are and what we do. Each year, we've gone from strength to strength and have been inspired by the way local food brings the community together.
Building on the past five years, we are excited to be opening our farm for membership to the wider community, taking us forward to the next level.
Key information
Minimum investment: £30
Maximum investment: £6,000
The investment should be considered as an opportunity to contribute financially to the farm with the expectation of a social dividend rather than a financial reward. This is a long-term investment. Please read the Share Offer Document for more information.
Key documents
The money raised through this share offer contributes to increasing our working capital and if certain levels are met, we can fund new projects that help develop our farm, as outlined below:
How to invest
Our first community share offer has now closed. We'll be publishing details of how to invest and buy shares in the future on this page, so watch this space!
Our targets
Target level 1: £10,000
This was our initial membership target. All monies raised will be added into our working capital. Examples of how we will use the working capital include purchasing tools, site maintenance and improving and expanding the VegBox Scheme.
Target level 2: £30,000
At this level, we will invest £20,000 into the following projects:
Increase farm visibility along Telegraph Track and Woodmansterne Lane with signage (£5,000).
Construct a self-service produce stall so that people can buy produce on site (£7,000).
Make the farm more water efficient by completing works on our rainwater collection systems, collecting water from every roof and connecting our storage ponds into our irrigation (£5,000).
Complete a renewable energy study for roof and ground mounted PV, making our farm carbon positive (£3,000). Funding the PV installation may involve a further share offer with interest available.
Target level 3: £60,000
At this level, we will invest an extra £30,000 that will:
Complete a Sutton FoodLab business plan and initiate steps towards renovating the glasshouses on our site. A FoodLab is a space for education and value-added production. This will help turn produce from the farm and wider community into products such as jams, healthy juice drinks, popcorn, herbal teas and honey. It will also provide space to teach cooking skills and enable enterprises like our local baker to scale-up.
Power our deliveries by 100 per cent renewables with a larger electric van, able to meet our projected customer growth.
Important information
Please see the Community Share Offer document for important information about:
Restrictions on returns
Risks and caution
Eligibility of membership
Voting rights
Nature of the investment
Thank you for taking the time to read our Community Share Offer and we welcome you to our farm.