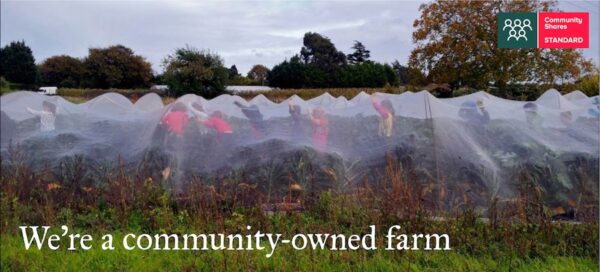 The second round of our Community Share Offer closed in May 2017. We raised over £97,500!
Our second share offer offered the opportunity to invest and become a Member. Over 300 people pledged on Crowdfunder and offline so that we can now build a barn to give us the space we need to flourish.
It is no longer possible to invest and become a Member. We will consider opening up this opportunity in future so please watch this space!
In the meantime please read on for a summary of our 2017 share offer:
Sutton Community Farm is a special place where we work together to grow and deliver fresh, healthy vegetables in south London. Our VegBox scheme is our route to financial sustainability and is growing fast. We desperately need more space for weighing, packing and storage. We need a barn, and we need your help to build it! 
Our share offer will raise money for a new barn that will
Accommodate our VegBox needs and enable us to grow to 400 customers
Allow us to host more school groups and provide dedicated space for educational activities
Enable us to offer more volunteering opportunities and bring more people to the farm
We're delighted that the funder Power to Change will match every £1 invested by you, so your money will go even further.
Members are entitled to: 
5% discount on VegBoxes for one year
Invitation to Members' only events
Your name on the wall of our new barn
Member communications on a regular basis
Have a say in the farm's governance with a vote at the Annual Members' Meeting
Owning Sutton Community Farm together means that we can secure the future and make sure we have a thriving, welcoming space for everyone to enjoy. We wouldn't be where we are today without the support and participation of thousands of people in our community. We're asking you to join with us on this wonderful journey that began in an empty field seven years ago.
Key information
Launch date: 31st March 2017 
End date: 26th May 2017
Minimum investment: £30 
Maximum investment: £6,000
The aim of the share offer is to raise our optimal target of £103,390, though the minimum we are seeking is £68,575 and the maximum is £137,150.

The investment should be considered as an opportunity to contribute financially to the farm with the expectation of a social dividend rather than a financial reward. This is a long-term investment.
Key documents
Please read these documents before you apply to purchase community shares.
First round closed as of 29th February 2016
Thanks to the generosity of investors we well exceeded our initial target of £10,000. In fact we raised more than £18,000 that made an important contribution to our working capital. We are now a community of more than 140 Member share-owners. This support is very important to us and gave us a big boost in 2016.