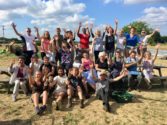 Sutton Community Farm is a Community Benefit Society, and it is owned by its' shareholder members. A key method of supporting the farm is to become a member, which can be done by buying shares. We are excited to announce that we have now launched an Open Share Offer so that anyone can invest in the farm and become a member at any time.
Owning Sutton Community Farm together means that we can secure the future and make sure we have a thriving, welcoming space for everyone to enjoy. We wouldn't be where we are today without the support and participation of thousands of people in our community. By becoming a community member shareholder you will become part of this wonderful journey that began in an empty field ten years ago.
Shares are £1 each, and the minimum purchase value is £30 shares, maximum £20,000. For prospective members or organisations who would like to purchase more than £100 worth of shares, please fill in the application form and await payment instructions from a member of staff.
These shares are non-profit-making and represent a long term investment in the future of the farm. The money raised from the shares will be used to fund the wider aims of the project, for example to purchase additional farm equipment for volunteers. Up until completion of the new barn build, any money raised from share revenue will go towards fixtures and fittings for our new building.
Members are entitled to:
5% discount on VegBoxes for one year

Invitation to Members' only events, including the Annual Members Meeting at the farm every July

Member communications on a regular basis by email

Have a say in how the farm is run with a vote at the Annual Members' Meeting, for example to elect management committee members
Terms and Conditions
Membership is open to any person (whether an individual, a corporate body or the nominee of an unincorporated organisation) who completes an application for membership in the form required by the Management Committee and:

is over 16 years of age;
supports the Society's Purpose;
pays for the minimum number of shares required by the Rules; and
whose application is accepted by the Management Committee.

The Management Committee may refuse any application for membership at its absolute discretion.
How to Become a Member
Please complete this Membership Application Form and then follow the PayPal link below to purchase your shares.
The Small Print – Please Read
Voting Rights
We follow cooperative principles and as such all members are entitled to full voting rights at the AGM and have one vote regardless of the number of shares held.
Withdrawal of Funds
Share capital may be withdrawn by selling the shares back to SCF after a minimum of five years from the then purchase date. You may withdraw some or all of your shares after the minimum period provided:
Notice of three months is given;

Trading surplus or fresh share capital allows this financially;

The management committee  approves the withdrawal request. This will be based on protecting the long term interest of the society and the community value.
Restrictions on Returns
A reasonable rate of interest on shares will only be offered in the event that the farm generates a trading surplus, and the Management Committee approves such a payment to members. It is not expected that the farm will generate a trading surplus within the next 3-5 years. Your investment should be considered as an opportunity to contribute financially to the farm with the expectation of a social dividend rather than a financial reward. This is a long-term investment.
It should also be noted that any investments which have the value of less than £100 will not be eligible for interest payments.
Existing Members
If you have previously purchased shares in the farm then it is possible to purchase more. You will need to fill in the application form and select the option stating that you are already a member. Please note that according to our Rules you will still only get one vote, regardless of the total value of your shares.
Share Options
For prospective members or organisations who would like to purchase more than £100 worth of shares, please email Sonia directly – sonia@suttoncommunityfarm.org.uk
PREVIOUS SHARE OFFERS:
The second round of our Community Share Offer closed in May 2017.
We raised over £97,000! Over 300 people pledged on Crowdfunder and offline so that we can now build a barn to give us the space we need to flourish. This brought our total number of Member share holders up to a whooping 404 people! Here's a video that was made to promote the second Share Offer:
First round of our Community Share Offer closed in February 2016
Thanks to the generosity of investors we exceeded our initial target of £10,000. We raised more than £18,000 that made an important contribution to our working capital. After the first round of Community Shares were sold we were a community of more than 140 Member share-owners. This support was very important to us and gave us a big boost in 2016.