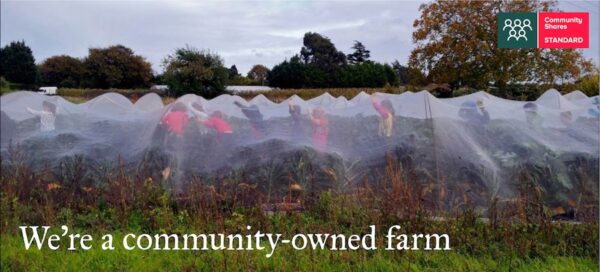 Community Share Offer – second round will go live 31st March 2017. Join us for the launch party 8th April. Book your place here!
First round closed as of 29th February 2016
Thanks to the generosity of investors we well exceeded our initial target of £10,000. In fact we raised more than £18,000 that will make an important contribution to our working capital. We are now a community of more than 140 Member shareowners. This support is very important to us and will give us a big boost over the coming months.
Future share offers
We will invite people to invest in our farm and become Members through future share offers, details to be confirmed. By investing, you will be supporting a new approach to farming; one that's sustainable, resilient and benefits people as well as the planet.
Being a Member means you can join in and help shape who we are and what we do. Each year, we've gone from strength to strength and have been inspired by the way local food brings the community together.
Building on the past five years, we are excited to be opening our farm for membership to the wider community, taking us forward to the next level.
Key information
Minimum investment: £30
Maximum investment: £6,000
The investment should be considered as an opportunity to contribute financially to the farm with the expectation of a social dividend rather than a financial reward. This is a long-term investment.
Key documents
Share Offer Document – 2017 Share Offer Document forthcoming
How to invest
Our first community share offer has now closed. We'll be publishing details of how to invest and buy shares in the future on this page, so watch this space!