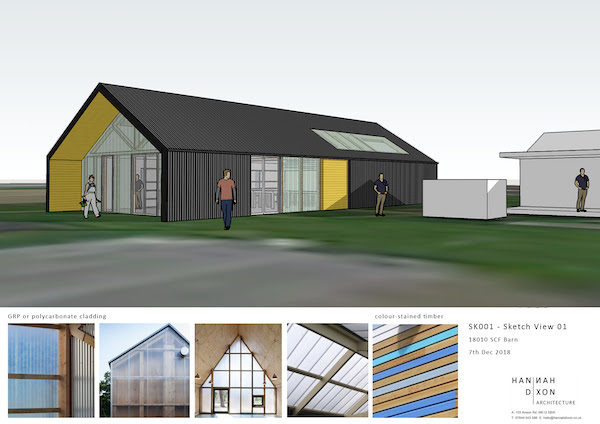 Here's an update on our exciting project to build a new barn at the farm. For more information on the designs, please see our previous blog post. Scroll down to hear how you can help us with the project!
We have made significant progress in the last 6 months:
planning permission for the new scheme has been secured
detailed design is complete
the building control submission is complete and is being reviewed
We are ready to commence construction but have decided not to start on site in October as planned. 
This is because cost estimates provided to us by several different contractors have proven to be inaccurate. The final quote from our chosen contractor came in at almost double the original estimates provided. Some of this increase in cost was expected and can be explained, some of it is unexpected and out of line with other suppliers.
To ensure the project will not jeopardise the financial security of the farm we have decided not to proceed with the quote from this contractor.
We are now going to:
Work with the existing contractor to see if the cost is accurate and if it can be reduced
Tender out the project to more contractors to test the market rates and see if another contractor can meet our budget
Split the project into smaller sections and tender out each individual part. This should save money as we will be removing the main contractors profit margin, but would involve the farm taking on more management responsibility and more risk.
Look at options for fundraising some additional grant income towards the project (approx. £25,000)
We are fully committed to this amazing project and excited to offer our volunteers and visitors much improved facilities. We are confident in the size and specification of the building, so this will remain unchanged.
With a combination of the above approaches we are confident of achieving an affordable budget and proceeding with the project. The timeline depends on the results of the tenders and the availability of builders, but the earliest we hope to start on site will be January 2020; completion would be 4 months later.
In the meantime, we have our lovely VegShed, our temporary barn (AKA the marquee), and we will keep reviewing our space and volunteer facilities. We will try and make small changes and improvements to make sure we can comfortably host our volunteers and visitors at the farm.
How you can help!
Please put us in contact with local builders. We want to speak both to builders who could take on the whole project, and to those who could take on one section (e.g groundworks, timber frame). Please email alice@suttoncommunityfarm.org.uk with any contacts or ideas.
You can also encourage your friends and family to support the project by becoming a member of the farm, though our open share offer. All money raised through the open share offer will go towards the internal fit out of the barn. You can also purchase more shares if you are already a member.
We are disappointed by this delay in the project, but are also keen to ensure we are maximising what we can achieve with the incredible support of our members and funders. Please do get in touch if you have any questions or suggestions!