By Harley Wright (Community Engagement Coordinator Nov 2016- Jun 2017)
Composting at Sutton Community Farm has come along way in the past 18 months. Previously, due to the demands of vegetable production on the farm, the growing team have been unable to focus their time on compost production on site. However, last year a dedicated group of volunteers have taken the challenge on and this year has seen the first complete batch of homemade compost spread inside the polytunnels to enrich the soil for our summer crops. Visits from Nicky Scott, a composting expert based in Devon, have helped the team grasp the basics and after many trials and a lot of hard work, a windrow system has been adopted as a chosen method and is going from strength to strength.
But why make your own compost? Students from Orchard Hill have been learning all about how onsite composting helps to cut-down waste, save money and create healthier, more resilient farmland. By reducing materials being sent to landfill we're minimising damage to the environment and directly converting these materials into valuable fertiliser for the farm, improving our soil health, therefore improving the health and nutritional value of our crops!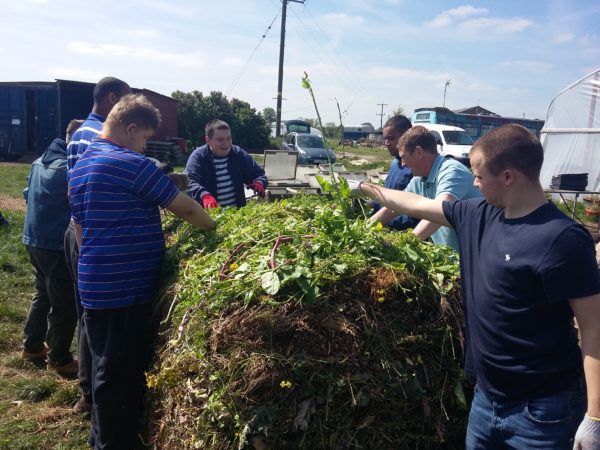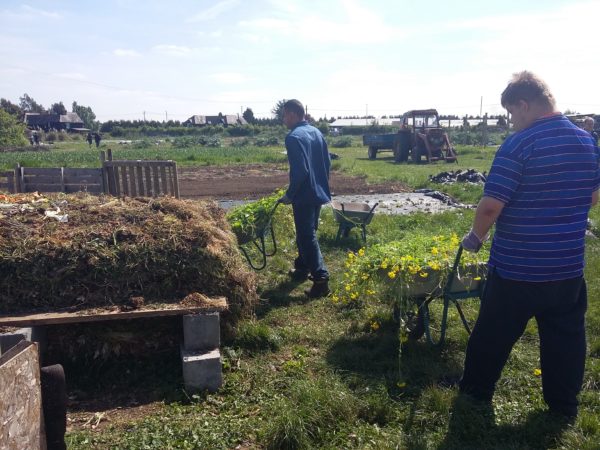 Students clearing the winter brassica polytunnels to make our 'green', nitrogen-rich materials for our compost 'lasagne'!
Various classes from Orchard Hill College in Wallington and Carshalton have been working hard on the farm for a number of years, helping us clear our old crops, assisting in site maintenance and taking on the heavy weed load! This year, with huge thanks to funding grants from the James Trust and Greggs Foundation, they've been able to learn more about the multitude of processes involved in producing the perfect compost! And they've been doing great! They've been building up their skills on the farm's main windrows, getting to grips with the balance of 'browns' and 'greens' or carbon and nitrogen-rich materials that are needed. They've also been mastering the art of layering materials, creating a perfect compost 'lasagne', as we've decided to call it. Food for the soil! By recycling essential nutrients and minerals needed for healthy vegetable growth you eliminate the need for chemical fertilisers, pesticides and herbicides. These unnatural and harmful chemicals destroy beneficial soil microbes and make their way into the food chain, damaging the site's biodiversity and natural resilience.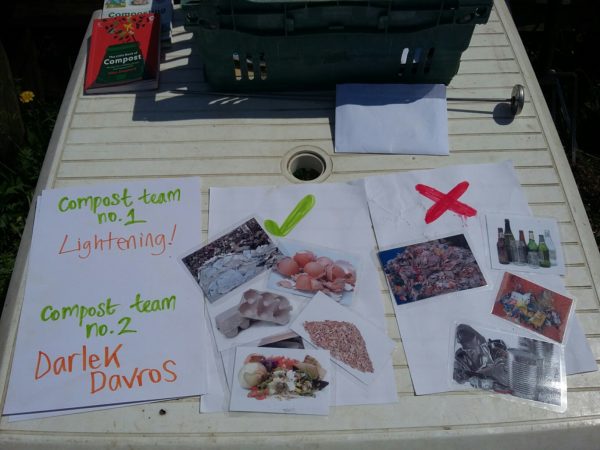 'What you can and can't compost and why?' activity.
Students have been taking part in a number of activities to consolidate their knowledge about composting. These include learning about the many benefits of home composting, the 'does', the 'don'ts' and top tips. They've also been assessing the progression and decomposition of certain heaps, feeling the warmth, measuring temperatures and witnessing the reduction in size of heaps over time. A session on soil life included a closer inspection on essential soil life with magnifying glasses and the students compared the number of visible microorganisms in each compost sample from around the site. Healthy soil is living soil after all and all of Orchard Hill's hard work so far has already resulted in some quality compost that will be used on the farm. Students will also have the opportunity to take samples back to their college in order to grow food and continue their learning there!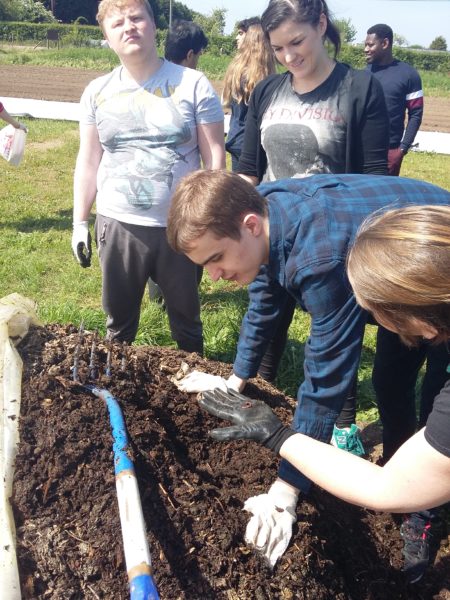 Checking out some of the thousands of brandling worms that have found a home in our compost.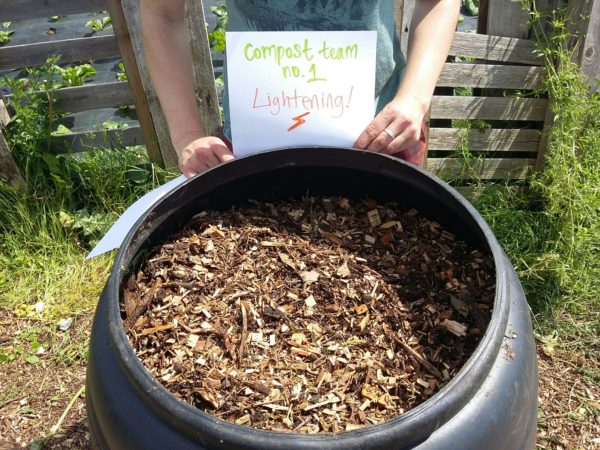 Week one – Compost Dalek completed by Team Lightening!
Over the next few months the teams will be focussing on processing the decomposing piles for future use as well as continuing their work on the farms main windrows, putting their new skills into action! Watch this space for an update later in the season. If you'd like to join the composting team you can read more info about volunteering here. The team meet a few times a month and you can come along, get some fresh air and learn some top tips for your own composting endeavours!