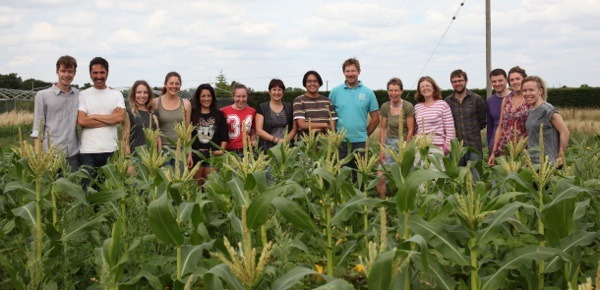 Paid positions
Sales Opportunity
Sutton Community Farm is London's largest community farm, a not-for-profit social enterprise growing fresh vegetables using organic principles, as well as providing a shared space for the local community to cultivate skills.
We need to grow our VegBox scheme to 400 customers to help make our farm more financially independent, so we're on the lookout for lovely people to help us recruit customers at markets and events within our delivery area.
While sales experience is preferable, great communication skills are essential! Self-motivation and a willingness to get stuck in are an asset.
Hours are event-dependent and mostly weekends. Additional canvassing is flexible and can be discussed.
Pay: Scaling daily commission
Deadline: This role is to start as soon as possible. Final application date 15 June 2017.
If you would like to be part of a friendly, community-spirited team growing a dynamic, flourishing farm and the local food movement, then please email vegbox@suttoncommunityfarm.org.uk, telling us why you want the job along with your CV.
***
We aim to make our Farm accessible to as wide a range of the public as possible and are committed to ensuring that everyone is treated fairly. You can find out more by reading our Equal Opportunities Policy.
Voluntary positions
Non-Executive Directors
We are looking for non-executive directors to join the farm's Management Committee bringing new skills and expertise onboard at this exciting period of growth and development. In accordance with our Rules candidates will stand for election to the Management Committee at our Annual Members' Meeting on 22nd August 2017 when the Membership will vote on a one Member one vote basis.
Click here for more information on the positions available.
If you are interested in standing as a candidate for election to the Management Committee this August please read through our Rules and the document SCF: Management Committee: Introduction and Expectations before completing our Registration of Interest form and returning together with your CV to Charlotte Steel, General Manager: charlotte@suttoncommunityfarm.org.uk and we will be in touch. 
Deadline for applications: Midday, 27 June 2017
Volunteer and Visitor Sign-in App
We are looking to develop a simple app designed to run on an Android tablet to help monitor people coming to the farm. This will help us with our project monitoring and reporting. Click here for more information.
Buddy Volunteers
The aim of our Buddy Volunteering Programme is to help us maintain a supportive, welcoming and safe space at the farm. As a Buddy, you will play an important role in helping to support fellow volunteers and coordinate tasks. This programme is for volunteers who are interested in supporting volunteers who have mental health problems and/or learning disabilities, or those who may just need a little extra support. Buddies help run practical activities and are available to volunteers who need extra guidance or help with settling in and getting to know the farm.
We are looking for new Buddy Volunteers to support our community volunteering days at Sutton Community Farm. There will be a training day in July, date tbc. Please fill out this application form if you're interested and read more here.
Working at the farm
Sutton Community Farm is run by a small team of staff and a large community of volunteers. We are passionate about local food, farming and making a positive difference in our local community. From time to time we have job opportunities arise. As an employer, we are committed to ensuring that everyone is treated fairly. You can find out more by reading our Equal Opportunities Policy.