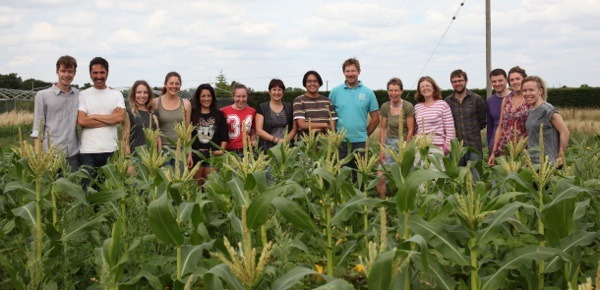 Back-up delivery driver (freelance)
Each week we deliver VegBags to households and pickup points across the local community. We are looking for a back-up delivery driver. The individual should have a good knowledge of the local area, excellent driving skills, a clean license, and own and be experienced with using a Sat Nav. This work is paid at the London Living Wage and will only occur 1-2 days every few months. Please contact vegbox@suttoncommunityfarm.org.uk to apply.
E-commerce development (freelance)
We are seeking a web developer to conduct a review of our Veg Box ordering system and update the system to improve reliability and efficiency.
Click here to download details.
Voluntary Positions
Sutton People's Kitchen Project Intern
Posted April 2016: Sutton People's Kitchen is a project that's about bringing people together to celebrate food, encourage healthier eating and lifestyles and promote local food growing. The project comprises the following activities:
Pop-up market stalls and workshops

After-school and community cook clubs

Community banquets
For more information about the project, please visit www.suttonpeopleskitchen.com
We are looking for an enthusiastic and organised individual who is passionate about healthy eating and keen to gain experience in project and event coordination. This is a voluntary role, supporting the Project Manager at the farm, and at outreach events. Deadline for applications: 6th May. Click here to download details.
Non-executive Director
Posted August 2015: We are seeking to increase the membership on our Management Committee. In particular, we are interested in applicants that can demonstrate knowledge or familiarity in finance, volunteer management and fundraising.
Click here to download details.
VegBag Packing Helpers
Each week we distribute our VegBags to the community. Vegetable packers help prepare our bags for delivery. This is a voluntary role, every Thursday 8am-11am, with the option to stay on into the afternoon to help with growing activities. We are looking for a minimum commitment of three months – ideally weekly or fortnightly.
Click here for more information.
Volunteer and Visitor Sign In App
We are looking to develop a simple app designed to run on an Android tablet to help monitor people coming to the farm. This will help us with our project monitoring and reporting. Click here for more information.
Working at the Farm
The Farm is run by a small team of staff and a large community of volunteers. We are passionate about local food, farming and making a positive difference in our local community. From time to time we have job opportunities at the Farm.  As an employer, we are committed to ensuring that everyone is treated fairly. You can find out more by reading our Equal Opportunities Policy.