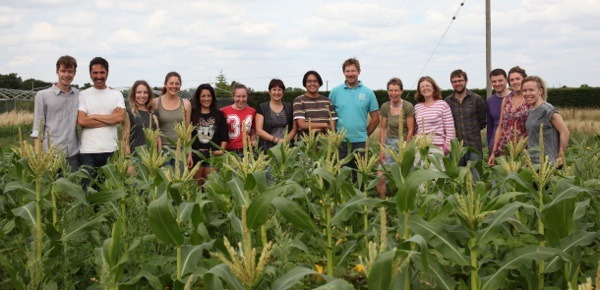 Paid positions
No vacancies at present.
Voluntary positions
Sustainable Farming Assistants
Our Sustainable Farming Assistant Programme enables volunteers to have a structured, practical experience, learning the basic principles of organic farming over a six-month period. It's a great way to skill-up and gain experience in growing. This document gives you an overview of the skills you will develop.
Sustainable Farming Assistants are offered the opportunity to get involved in all stages of crop production on the farm, as well as other projects relating to the development of the space. Working alongside us you can learn about propagation, planting, care and maintenance, harvesting, grading and packing. Additionally you will have opportunities to take part in soil preparation and management, composting, green manuring, pest and disease management and irrigation. There will be an informal programme of practical learning based on being out there in the fields and polytunnels and getting your hands dirty!
We look for a commitment of at least one day per week (Tuesdays), for a minimum of four months.
Sustainable Farming Assistants are welcome to a share of the harvest where possible.
We will be recruiting Sustainable Farming Assistants for 2019's growing season from April.
For more information on how to apply, please read this document.
Buddy Volunteers
The aim of our Buddy Volunteering Programme is to help us maintain a supportive, welcoming and safe space at the farm. As a Buddy, you will play an important role in helping to support fellow volunteers and coordinate tasks. This programme is for volunteers who are interested in supporting volunteers who have mental health needs and/or learning disabilities, or those who may just need a little extra support. Buddies help run practical activities and are available to volunteers who need extra guidance or help with settling in and getting to know the farm.
We are looking for new Buddy Volunteers to support our community volunteering days at Sutton Community Farm. The next buddy training will be in early spring 2018, date tbc. Please fill out this application form if you're interested and read more here.
Working at the farm
Sutton Community Farm is run by a small team of staff and a large community of volunteers. We are passionate about local food, farming and making a positive difference in our local community. From time to time we have job opportunities arise. As an employer, we are committed to ensuring that everyone is treated fairly. You can find out more by reading our Equal Opportunities Policy.