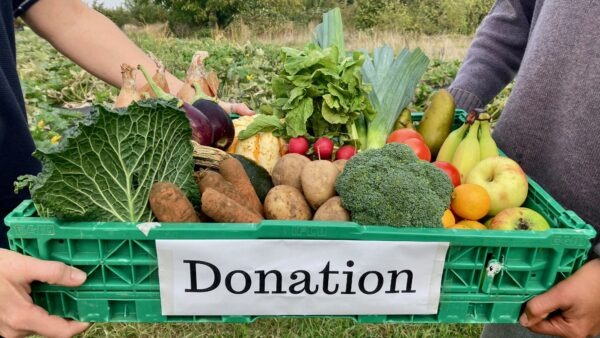 Can you help us provide fresh food to the local community?
Sutton Community Farm has ongoing partnerships with ten different community organisations who all work to provide food to those most in need across our delivery area. 
Our Veg for Charity initiative provides fresh fruit and vegetables every week to these organisations. Through buying Veg for Charity you can support both our local charity partners and Sutton Community Farm!
Organisations we support:
How Do I Buy 'Veg for Charity'?
If you are a customer, you can use your account on our online shop – just add the relevant product to your order along with what you want to have delivered to you.
We have donation values of £5.00, £10.00 and £25.00 to select, or you could add any combination of these.
You can also choose to make a 'once only' donation, or to donate regularly by selecting the frequency you would like; weekly, every 2 weeks, every 3 weeks or every 4 weeks. Please email vegbox@suttoncommunityfarm.org.uk if you are unsure how to do this.
If you are going on holiday and would like to redirect your usual order to a charity please email vegbox@suttoncommunityfarm.org.uk.
If you are not a customer, you can make a one-off gift or make a regular monthly gift via PayPal here. If you don't have a PayPal account, you can also use your credit or debit card through this link.
If you or your organisation are in a position to make a gift of any size, please contact us at vegbox@suttoncommunityfarm.org.uk or on 07722 156097 to discuss how your contribution can help our community effort.
Thank you for your kind support