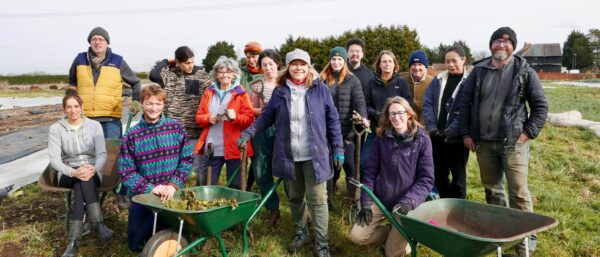 Community Ownership of the Farm
Sutton Community Farm is a community enterprise owned by its shareholder members, and we currently have over 400 people who have invested in the farm. The farm's business model is a Community Benefit Society (CBS), which is a form of co-operative that exists for the benefit of the wider community.
Owning the farm collectively provides security for the future of our community enterprise and ensures we have a thriving, welcoming space for everyone to enjoy.
Membership and Shares
A key method of supporting the farm is to become a Member, which can be done by buying shares.
Anyone can invest in the farm and become a Member at any time

Shares are £1 each, with a minimum purchase of 30 shares

These shares are non-profit-making and represent a long-term investment in the future of the farm
Benefits of Membership
Members receive:
5% discount on all products in our shop for the first year of each membership

Votes on some decisions that influence how the farm is run

Invitation to Members-only events, such as our Annual Members Meeting

Farm news and invitations to get involved via occasional email communications
Becoming a Member
If you would like to invest in the farm and become a member, please complete our Membership Registration Form. 
Click the button below to pay for your shares via PayPal. If you prefer to pay for your shares via bank transfer, please wait to receive an email with payment instructions.
Terms and Conditions
Membership Eligibility

– Membership is open to any person (whether an individual, corporate body or the nominee of an incorporated organisation) who completes our Membership Registration Form and fulfils the following criteria:

Is over 16 years of age

Supports the Society's Purpose

Pays for the minimum number of shares required by the Rules

Approval by the Management Committee (who reserve the right to refuse any application for membership)

Voting Rights –

We follow co-operative principles and all members are entitled to full voting rights at our Annual Members Meeting. Each member has one vote, regardless of the number of shares they own.

Withdrawal of Funds

– Share capital may be withdrawn by selling back the shares to Sutton Community Farm after a minimum of five years from the purchase date. You may return some or all of your shares after the minimum period provided:

Three months notice is given

Trading surplus or fresh share capital allows this financially

The Management Committee approves the request (based on protecting the long-term interest of the Society)

Restrictions on Returns

– 

A dividend on shares will be offered only in the event of the farm generating trading surplus, and approval by the Management Committee

Any investment should be considered as an opportunity to support the farm financially for its wider community benefits, without the expectation of financial reward

Investments valued less than £100 will not be eligible for dividend payments

Existing Members

– If you are already a Member of the farm, it is possible to purchase additional shares. Please complete the Registration Form and select the option stating you are already a member.

Large Investments

– For prospective organisations who wish to buy more than £100 worth of shares in a single purchase,

please email Sonia

.
Key Documents
The Rules, our Governing Document