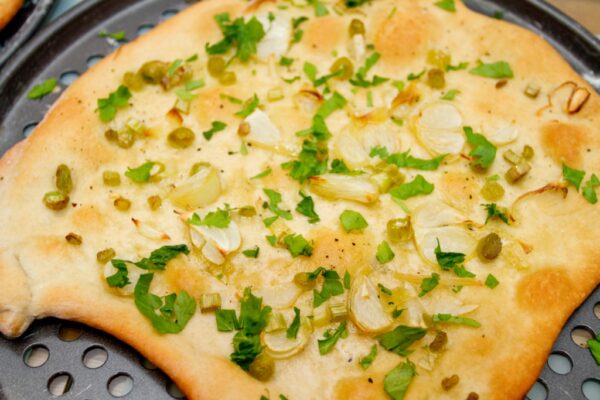 For the dough:
500g strong white flour
1 tsp sugar
tsp salt
7g sachet yeast
300ml warm
water
For the Pizza:
Small handful fresh parsley
6-8 tbsp olive oil
1 1/2 tbsp white wine vinegar
A few fresh basil leaves
Salt and pepper
Lemon-Mint Vinaigrette Salad Dressing:
1/3 cup lemon juice
1 tablespoon Dijon mustard
1 teaspoon sugar
1 clove garlic, minced
1/3 cup extra-virgin olive oil
1/3 cup chopped fresh mint
1/8 teaspoon salt
Freshly ground pepper, to taste
The Pizza:
Start by making the dough, putting all of the ingredients into the bowl and kneeding them until
the mixture resembles a not-too-sticky dough. Leave the dough in the bowl, cover the top and leave until
doubled in size; an hour or so.
2. Divide the dough into four. Roll out two pieces on a floured surface and put onto pizza trays. Rub
a thin layer of olive oil all over the bases. Peel and chop the wet garlic; you can use most of the green
part, Put the chopped garlic onto the bases, season with salt and pepper and drizzle with more olive
oil. Bake in a preheated oven at 220C for 10-15 minutes.
The Salad:
We've picked a simple lemon-mint dressing to go with your Farm salad – these sunny fresh flavours of
tart lemon and cool mint combine to make a lively dressing. Whisk lemon juice, mustard, sugar and garlic in a small bowl until blended. Drizzle in oil, whisking until blended. Stir in mint, salt and pepper.