We're taking cooking to the streets! From the end of this month we'll be setting up a big stall on Sutton High Street every second Saturday, working with the Greenwich Cooperative Development Agency (GCDA) and the London Borough of Sutton. Inspired by its Brixton counterpart, Sutton People's Kitchen will be a buzzing celebration of food, including live cooking demonstrations, a food quiz, tasters, special recipe bags as well as information about the farm, healthy eating and growing – a whole lot of goodness all in one place!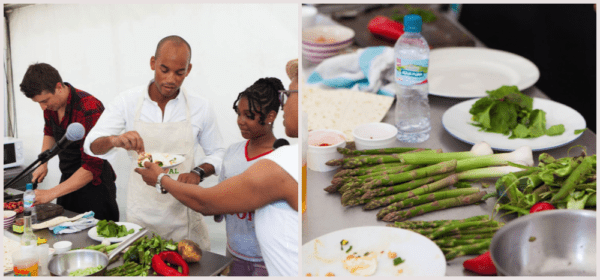 This pilot project is aimed at linking and inspiring the community with healthy sustainable food and food growing initiatives already established in the borough.
This is a really exciting opportunity and will be a great boost for the farm and our education outreach. We'd obviously like to make the most of our presence there and ensure we're able to offer all the information we can, so we're looking for volunteers to help out with giving away free tasters, enticing passers-by to the stall and just generally engaging people in conversations about food.
Please get in touch if you would like to support on any of the days or would like more information: robyn@suttoncommunityfarm.org.uk. The dates are as follows:
Thursday 23 Apr at the St George's Day Food Fair (click here for more information)
Saturdays: 25 Apr, 9 May, 23 May, 6 Jun, 20 Jun, 4 Jul.
Do come along and check out all the action in the coming weeks and let us know if you'd like to get involved!
Recipe Boxes at a very special price!
We'll be selling Recipe Boxes at a special reduced rate on the stall. This is a trial and we're interested in how people use them and if they prove popular, we will add them as a new product on our website.
This is something we've been exploring for the last month. We recently asked our customers and supporters about their interests in Recipe Boxes. Thank you to everyone who completed our RecipeBox survey – we had over thirty responses, providing us with some positive suggestions and helpful insight. The survey is still open for anyone else who would like to participate and can be found here: http://bit.ly/RecipeBoxSurvey