Summer purslane is a low-growing succulent that, encouraged by the warmer weather over the summer months, you'll often see protruding from pavement cracks and peppering vegetables patches. Whilst some gardeners consider it a weed it is, in fact, an ever-popular plant and a firm favourite amongst experienced chefs at some of the reputable London restaurants that we supply.
What's more, this palatable plant is positively pioneered by leading nutritionists for containing more omega-3 fatty acids than any other green plant and – according to the University of Texas at San Antonio – purslane contains 10 to 20 times more of the antioxidant melatonin than any other fruit or vegetable that they tested.
Whilst we're at it, you might like to learn that it has six times more vitamin A, B, C and E than spinach, seven times more beta carotene than carrots, contains magnesium, calcium, potassium, folate and lithium, is 2.5% protein and holds just 15 calories per 100g. In short, that's a "super food" without the fad, as this little green has stood the test of time.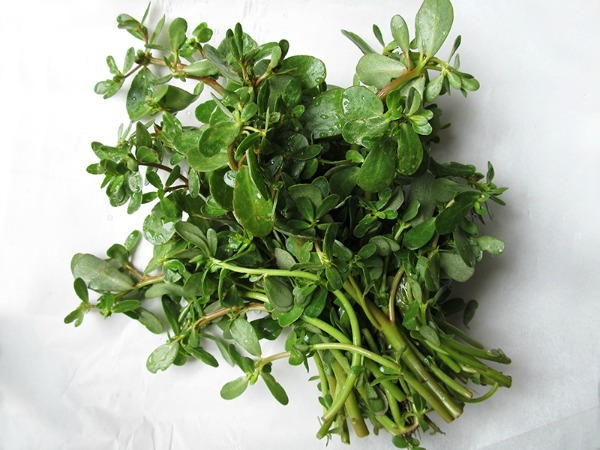 An early appreciation of purslane can be found in Henry David Thoreau's account of his time in the wilderness at Walden Pond in 1854. He says, "I learned from my two years' experience that it would cost incredibly little trouble to obtain one's necessary food, even in this latitude; that a man may use as simple a diet as the animals, and yet retain health and strength. I have made a satisfactory dinner… simply off a dish of purslane… which I gathered in my cornfield, boiled and salted… Yet men have come to such a pass that they frequently starve, not for want of necessaries but for want of luxuries."
Whilst it was a "necessity" for Thoreau back then, with top London chef's paying a premium for it now, we'd argue that its status has been firmly elevated to "luxury" and we're pleased and proud to be distributing this exemplary plant to our VegBox customers.
For recipe ideas on how to prep, cook and eat your summer purslane, visit our summer purslane recipe page.