Agroforestry at Sutton Community Farm
Over the winter of 2022/2023 we planted 55 apple and plum trees to establish agroforestry on our farm.
Agroforestry blends agriculture and trees to create a more diverse, productive, and environmentally friendly use of land. These new fruit trees have been intentionally integrated with our vegetable crops, which has many benefits such as:
Boosting biodiversity
Enhancing soil health
Carbon sequestration
Water conservation
Crop diversification
Increasing crop yields
Nutrient cycling
Natural pest control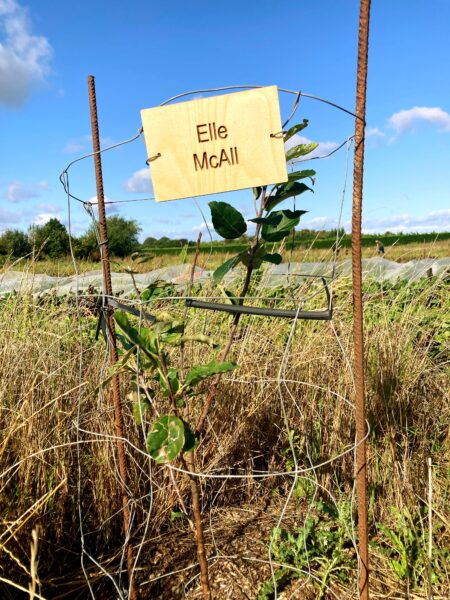 Sponsor an Apple Tree
Part of our Crowdfunder in spring 2023 was to offer sponsorship of 30 of our new fruit trees. We are pleased to offer the chance to sponsor one of the other 25 remaining trees, with every tree leaving a lasting legacy on our farm for decades to come.
Each tree is £150.
Payment via PayPal – click the Pay Now button below:
.
Each tree sponsor will choose a name of their choice, which will be engraved on to a wooden plaque displayed in front of your tree. A digital map will show you where your apple tree is located on the farm, you are welcome to come and visit it anytime.
If you have any questions, please email sonia@suttoncommunityfarm.org.uk