Hi, I'm Joris. I've been working at the farm for 4 years and for the most part am responsible for the growing activities on the farm. This year we thought I could write the monthly newsletters.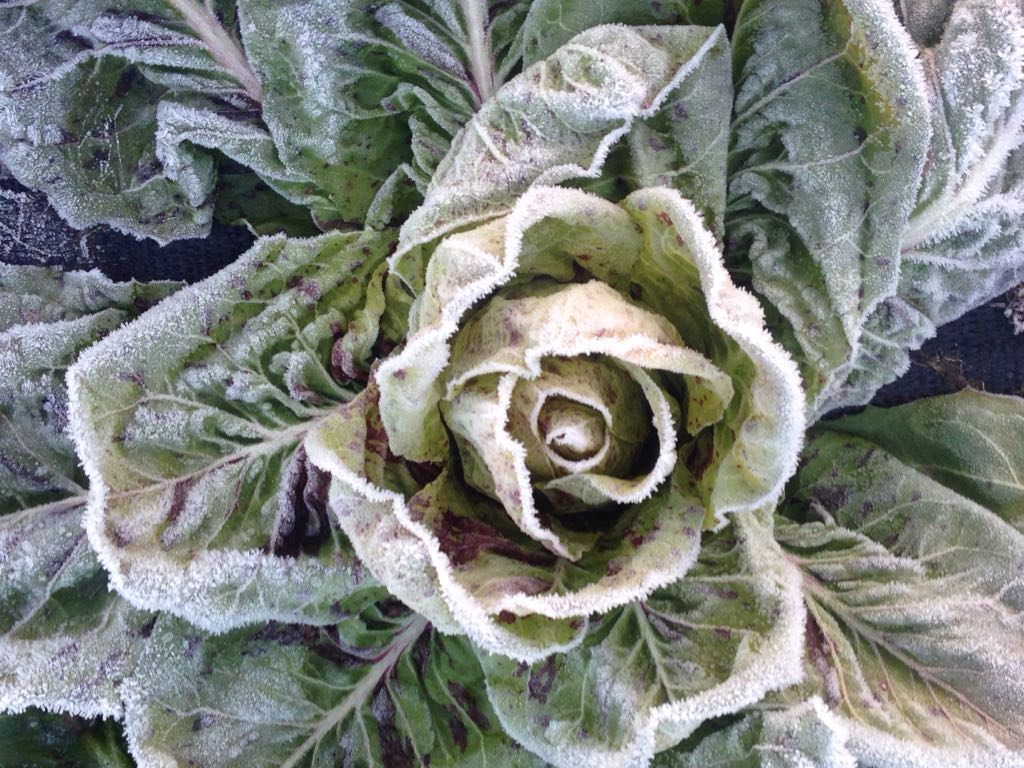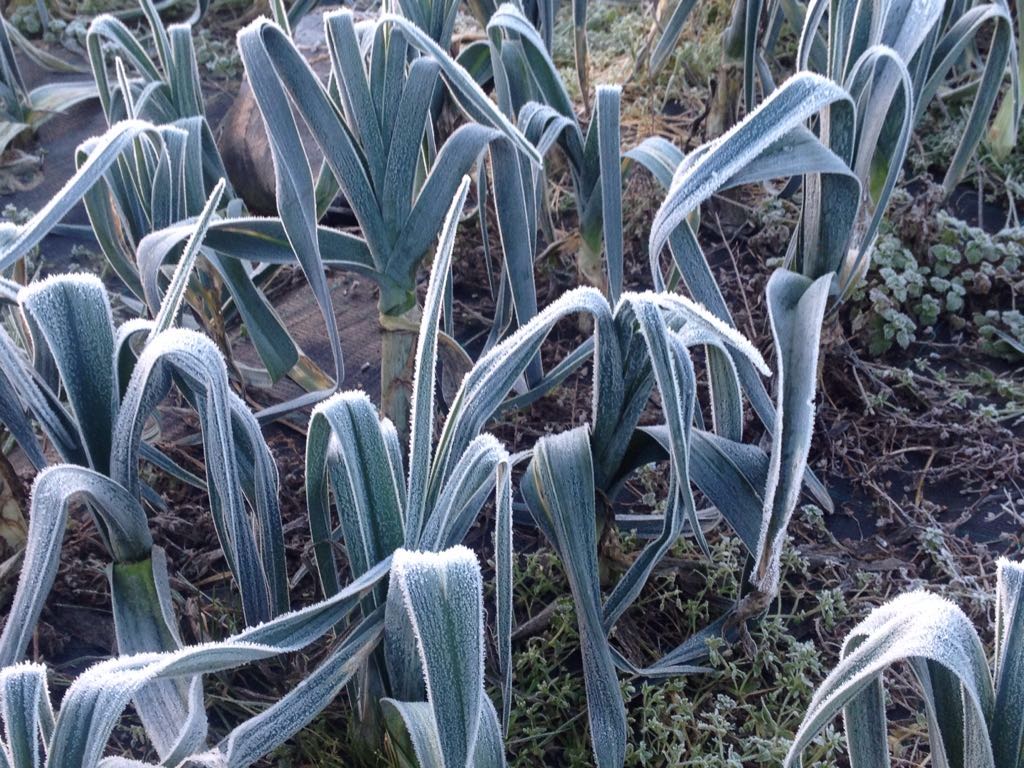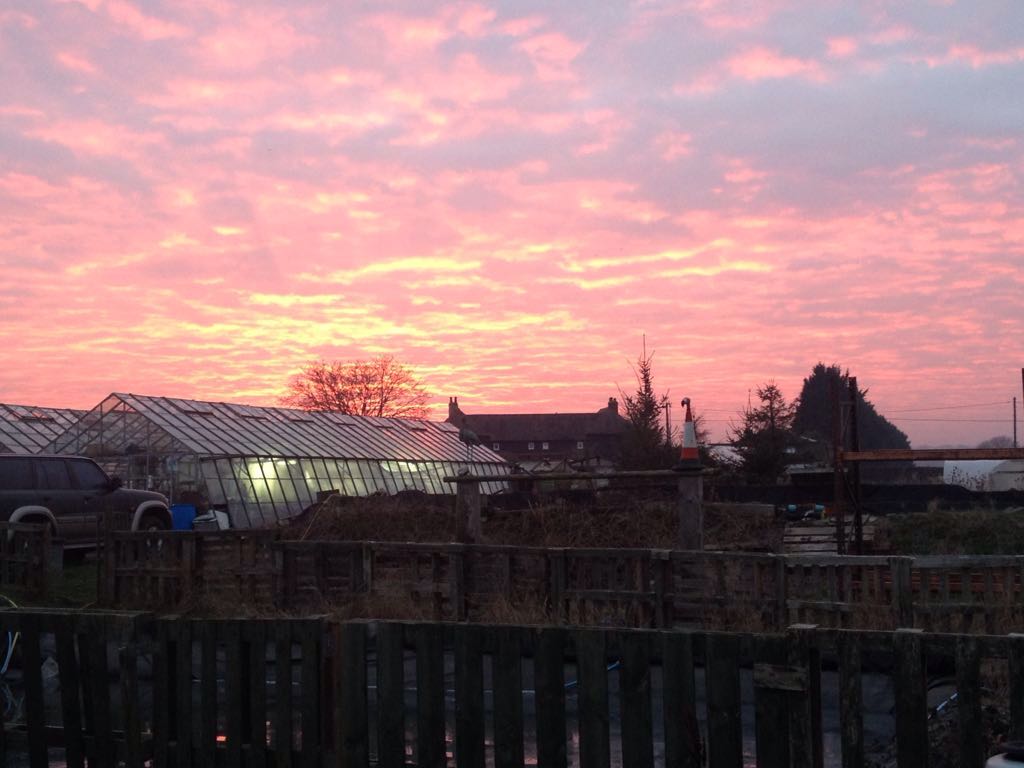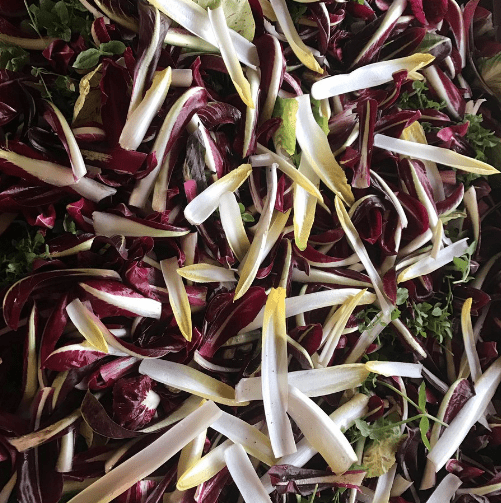 Photos by Samantha: Pretty frosty chicory, frosty leeks, one of the many beautiful January sunsets, and our fancy salad!
January offers us a few moments to take stock. Last year we had great year on the farm, producing more than ever and more of it went into the bags than previously (most of our surplus goes to nice restaurants). We have reviewed our growing plan and spent time pawing the pages of seed catalogues, dreaming of all the possibilities that lie within. This year we can look forward to more aubergines, peppers and classic tomatoes, more salads and notably more chicories in autumn. We finally decided that fennel and really crunchy celery are beyond our abilities right now, so we'll concentrate on the aforementioned chicories instead. We are also going to try our hand at celeriac, although it likes very rich soil, not something we are blessed with as downland farmers, so we'll need to be realistic with our expectations. The other notable change is fewer courgettes – a relief I'm sure after last year's almost 2-tonne harvest. Instead we will have more winter squash to give us something more in these leaner months and give outdoor cucumbers a try (not something I have ever tried before so again we'll need to keep our expectations in check).
The weather has given us a welcome dose of frost and it's particularly challenging to person, plant and pest. The people layer up and get accustomed to numb fingers and toes and oscillate between putting a sweat on under the layers and catching a chill. The plants stand still, biding their time and hopefully the pests, and more specifically the slugs, die. Normally we would be using the frosty weather to apply compost but since the composting facility in Beddington was closed down to make way for the incinerator, it's a lot harder to get a local supply. The compost we have been adding over the years has really helped increase the soil's organic matter, which improves water retention, key for our fast-draining soil. It takes years to build good quality soil and when horticulture is very intensive it's important to make sure you give back.
We've sown our first seeds for the year, Florence Long and the lovely Red Torpedo onions. They're time-consuming to plant but a triumph of an onion. We're also sowing pak choi, spinach and lettuce.
Some memorable mouthfuls from the last few weeks: kale and walnut pesto; parsnip, spinach, walnut and cheddar pie; burnt carrots with horseradish; beetroot soup. Also Charlotte potatoes, a fantastic early variety that stores well (what a treat considering it was harvested 6 months ago!). The pears and clementines are particularly delicious – my 2 year daughter devours them with relish.
Next Open Saturday is 11th of Feb. Let us know if you'd like to take part.
Joris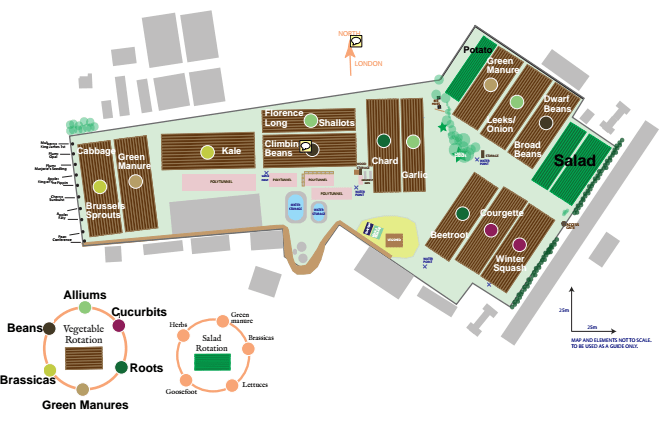 2017 Crop Rotation Plan