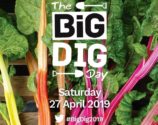 The Big Dig Day is an opportunity for members of the public to get involved in their local community garden project at the start of the growing season. Sutton Community Farm will open its' gates to anyone who wants to come down to the farm – either to get stuck in or simply to come and have a look around.
Volunteer tasks could span the full range of crop production and might involve seed sowing, planting out, plant maintenance, clearing and composting old winter crops. The precise plan for the day will be formalised in the week before.
For weekend volunteering opportunities, we are open twice a month on Saturdays from April – October, and this Big Dig Day will be a big help to get us in a good position for the start of the growing season.
The hours we are open are 10am – 4pm, and you are welcome to come anytime during that window.
To express your interest please email sonia@suttoncommunityfarm.org.uk
More info here: https://www.capitalgrowth.org/bigdig/